Here I am going to make you familiar with a very latest and new way to earn online money without any investment in Pakistan. Yes of course! It is possible now a days with the invention of a new website that is called "adfly". So here you will learn how to make online money with adfly in Urdu. This procedure is very simple and quick and one can earn up to $9 dollars a day by just sign in to adfly page that is totally free and easier to do. Like other online making money methods it does not require any registration or any inquiry or there I not any type of IP identity alerts are requires in it. Moreover it is existing and 100% genuine and pure work where there is no any condition is existing for any fraud. These days not only businessman but also students and other persons male and female are earning a handsome amount by using this online earning money while sitting at home. I am hoping that you are also interested and want to know that how to earn money by adfly in Pakistan. So just scroll down this page and keep on reading to get procedure for making online money via adfly in Urdu.
How To Make Online Money With adfly In Urdu
Procedure/ Method
Click on Join Button and Fill In the online form
In case you don't want join with adfly username and password; you can also with your facebook ID
When you are login you will see a box that is requiring a URL
Enter any URL of any website, you can also enter your own free website link in it
When you enter a link in the URL box a shrink link will be created that is alternative of your website link
You have to send this shrink link to your contacts or friends or any social page where peoples will click on this link
When someone will click on this shrink link an adfly add will be shown in front of that website having a "Skip This Add" option
How many times a link is click with different IPs as much you will be earned
From Where to Collect Money
An online banking service is working with the name of "AlertPay". You just have to make an account with this online banking system and cash will be transferred with this account.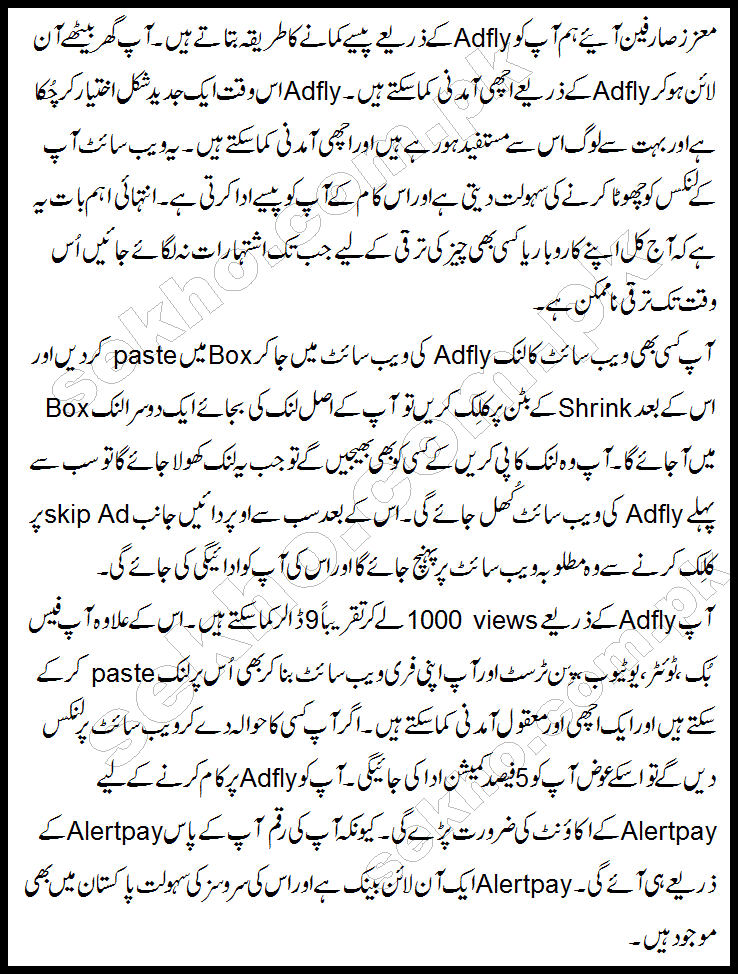 Hence this is all about how to make online money with adfly in Urdu. This is a type of online business where you have your own website and own shrink link while the thing is just you have to make clicks with new IPs per day on different shrink links. In case of any further confusion you can send your query in the comment box.