The complete list of What are the Highest Paying Jobs without a College Degree as given here at this page. This is obvious that to earn good money a very good and competitive education but the one who is having any college degree should not get depressed because they also have the opportunity of earning food money in Pakistan and even in abroad countries, but if we make good analysis such people who don't have any college degree do have high paid jobs in abroad countries. Here are few examples and few jobs which can make the individual earn handsome salaries even without any college degree.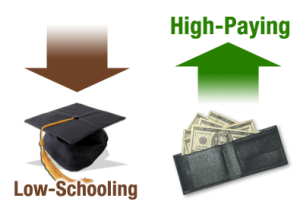 Article writing: Getting associated with any of the website in which the candidate can act as the article writer or even can play the role in promoting the website and socializing it. This is a job which is being paid very large amount of money in Pakistan and even abroad and one good thing for this is that this is just the learning and one doesn't need any of the college degree for getting eligible for it.
Job in a Restaurant: Even in abroad and in countries like Pakistan the students prefer to work in the restaurants which can give them the part time job and are being handsomely paid. The intention of such student is just to support their educational expenses and to get over those expenses but still in countries like Europe and America the individual can earn very good sum of money and even after making all the expenditures they can have some minor salary and even no college degree is being required for this very respective job.
Job at Petrol Pump: The students in the foreign countries do prefer to work part time on the petrol pumps and filling stations so that they can make sure that they are able to make their expenses on their own and are not dependent on anybody and the charm for this is that no college degree is required for this very job too. This is mainly observed in the countries like America and Europe where the people and children get independent very early in their life even before they are graduated and they have any particular degree. So such people do prefer such jobs which don't require any specific degree and even help the individual to earn a very respectable amount of income which might help him or her to carry their own expenses on their own in their lives.