University of veterinary and animal sciences, Lahore-Pakistan is offering Need Based scholarships for the session of 2014-2015 in accordance with HEC. Application forms for these scholarships are available here. These scholarships will be awarded on the basis of merit to the students who cannot afford higher studies. HEC higher education commission in accordance with University of Veterinary and animal sciences, Lahore-Pakistan has launched this scholarship program under which the students who are enrolled in academic session of 2014-2015 and need financial support for higher studies. UVAS is a public research university located in Lahore, Punjab Pakistan was established in 1882. Here we are providing you detailed description of this HEC-Need Based scholarship program. The candidates who are willing to apply can get all information from here. We have also mentioned eligibility criteria and application procedure. Application forms are also available here. For further details keep consulting our website.
UVAS HEC Need Based Scholarship Program Session 2014-2015 Application Form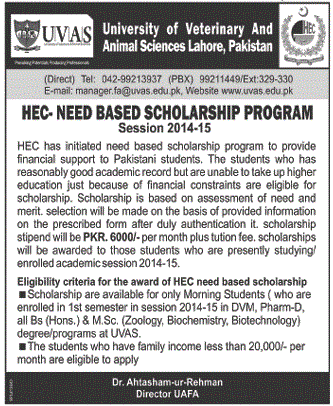 Eligibility criteria
Eligibility criteria will be awarded on the basis of the following criteria.
Candidates from morning session can only avail this scholarship.
Candidates who are enrolled in the first semester DVM, PharmD, Bs(Hons) and M.sc .
Candidates who have monthly income less then Rs. 20,000/- per month will only be eligible.
Courses for scholarships
DVM
PharmD
BS (Hons) applied microbiology
BS (Hons) biotechnology
BS (Hons) biochemistry
BS (Hons) biological
BS (Hons) environmental science
BS (Hons) nutrition and dietetics
BS (Hons) dairy technology
BS (Hons) poultry science
BS (Hons) zoology
M.Sc Zoology
M.Sc Biotechnology
M.Sc Biochemistry
Application forms
The candidates who fit in the above described eligibility criteria and are enrolled in the 1st semester of the above described courses can apply for these Need Based scholarships. Application forms for these scholarships can be downloaded from the official website of University of Veterinary and animal Sciences Lahore Pakistan.  Application forms must be filled up only with authentic information, In case of inauthentic information, application will be rejected.  Candidates under this scholarships will get Rs. 6000/- per month along with tuition fee.
Required documents:
Following attested documents are required on the time of submission of application forms.
Income certificate
Copies of last three months utility bills
If orphan then death certificate.
Copy of F.Sc certificate/ result card.