9th National Mathematics Olympiad is going to be organized by GC University Lahore Abdus Salam School of mathematical sciences. This specific Event For students desiring to become a world class scientist, this contest is an excellent opportunity to start with. Its key objective is to give recognition at the highest Level to the talented students. The selected students after this(9th National Mathematics Olympiad Pakistan)  will be Invited to the national mathematics campus, where they will be trained & groomed by world famous coaches.
9th NMO Registration Form Please click the following links to download registration form
Last date for submission of nomination form is September 25, 2013
9th National Mathematics Olympiad Pakistan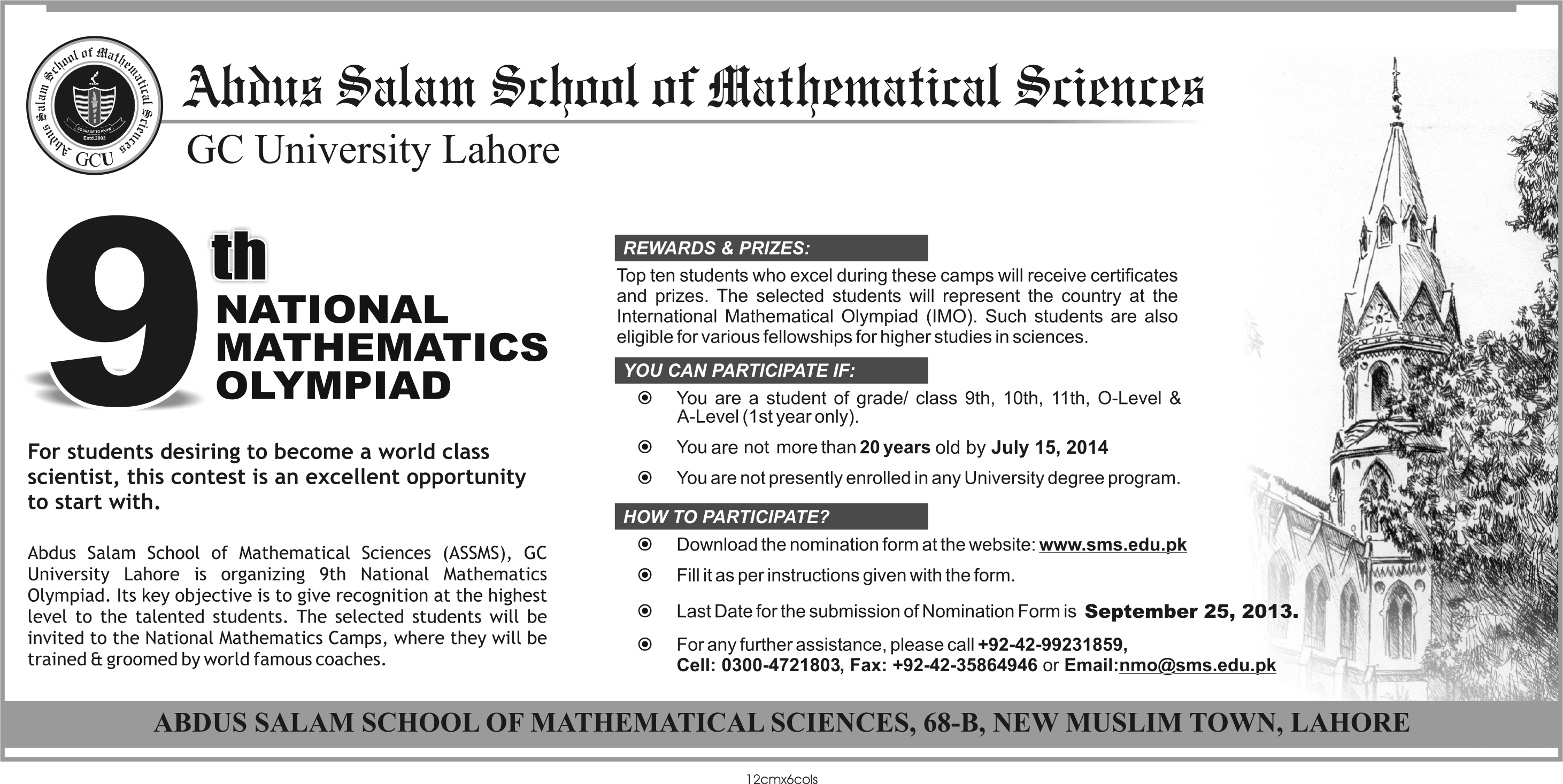 Rewards & Prizes:
Top ten students who excel during these camps will receive certificates and prizes. The selected Students will represent the country at the International Mathematical Olympiad(IMO). Such students are also eligible for various Fellowships for higher studies in sciences.
Eligibility Criteria IF:
You are a student of grade/class 9th, 10th, O-level & A-level(1st year only).
You are not more than 20 years only by July 15, 2014.
You are not presently enrolled in any university degree program.
How To Participate?
Download the nomination form.
Fill it as per instruction given with the form.
Last date for submission of nomination form is September 25, 2013
For 9th National Mathematics Olympiad Pakistan Roll Number Slips and any further assistance, please call 92-99231859,
Cell: 0300-4721803, Fax: 92-42-35864946 or email: [email protected]
Abdus Salam School Of Mathematical Sciences
68-B, new Muslim town, Lahore
Contact: www.sms.edu.pk