University Of Agriculture Faisalabad is offering Evening Admissions in its main campus for the year of 2014 in diverse programs. Candidates interested to get admission in the UAF evening programs 2014 can submit application for admission for the programs being offered by the UAF in evening programs and also in other programs such as Morning, Postgraduate and PHD Programs at all. We have given you all the details of this admission here along with the list of programs offered in evening program.Its a great chance to get admission in this university because its a university whihc brings out all the abilities of the students. This university was established in the year of 1906 and it is one of the major institute which is playing a great role in developing the agricultural education in Punjab and producing so many agriculture engineers every year. This university is having approx a faculty of more than 500 teacher who are well qualified holding PhD degrees and all are qualified internationally. UAF is also facilitating the students with a number of hostels for Boys and girls indeed. Now for the year of 2014 they have offered admission and those candidates who are far from this university can get  facility of Hostel. The Programs offered in  University Of Agriculture Faisalabad for the academic year of 2014-15 are given under here:
List of Evening Programs:
 MBA (3.5 years)
 MBA (Executive)
 MS.c (C.S)
 MS (C.S.)
 MS.C (Chemistry)
 M.Phil (Microbiology)
MS.C (Hons)
Last Date:

24 September, 2014
University Of Agriculture Faisalabad Evening Admissions 2014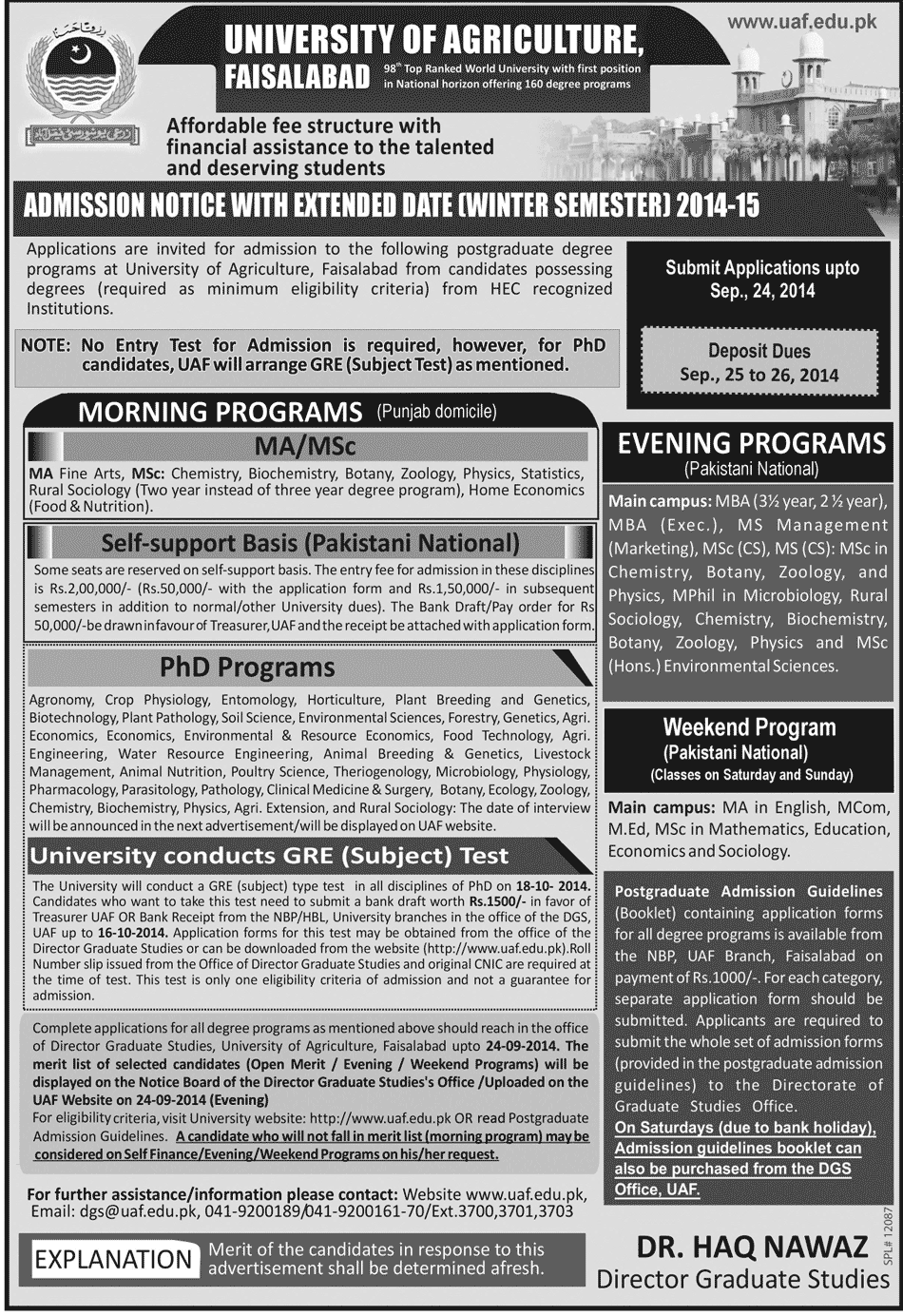 Admission Form:
Candidates can get application form the office of director graduate studies,  University of Agriculture Faisalabad Principal, College of Agriculture Dera Ghazi Khan upto 10 September, 2014 Complete applications should reach in the those students who awaiting their result also submit their applications form and they can also get admission indeed
First list of selected candidates will be displayed on the notice board of the office of the director, graduate studies University Of Agriculture Faisalabad dera ghazi khan as well as university official website on the date of 29/09/2014.
All the further information about the admission 2012 of University Of Agriculture Faisalabad Evening Admissions 2012 available in the up add.
Environmental Sciences at UAF Main campus and MBA (3.5 year) at DG Khan Campus.Applications are invited for admission to the following degree programs at University of agriculture,Faisalabad/college of agriculture, dera Ghazi Khan from candidates possessing degrees (required as minimum eligibility requirement) from HEC required institution/Universities.
For further Information and detail about the admission of University Of Agriculture Faisalabad Evening Admissions 2012 keep in touch with us here on sekho.com.pk and  university official website www.uaf.edu.pk