Admission process, eligibility, deadlines and all the information about Punjab University MS, M.Phil, MSc, PhD admission 2017 fall session are given here. Admission are open for post graduation programs in Punjab university you can get admission in your desired engineering program; It is offering many programs for the applicants to apply. University of the Punjab is attaining application forms to give the best and high standard education to the students. It was established in 1882 at Lahore, the University of the Punjab is the largest and the oldest seat of higher learning in Pakistan. It was the first to establish in the sub-continent in Muslim majority area. The Fact that two Nobel laureates are forming this University speaks volume for its academic and research excellence. It is located in the historical and culturally alive city of Lahore; this University has played a leading role in higher education in the county. The University strives to provide a favorable environment for the purist of the academic activities. So it's a chance to get Punjab university MS, M.Phil, MSc, PhD admission 2017 fall session.
Punjab University MS, M.Phil, MSc, PhD Admission 2017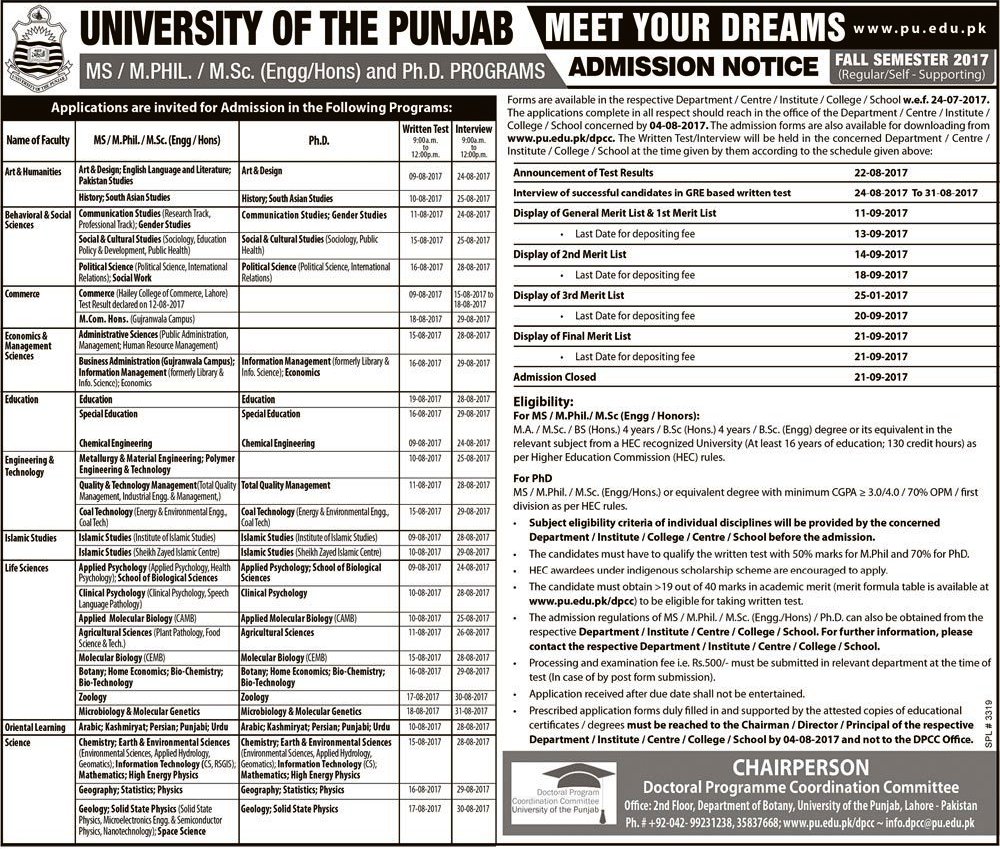 Download PU Post Graduate Admission Form
PU Post Graduation Admission Process
First of all you have to make if you are eligible for this admission or not. Such as your 16 years of education are completed and you are now going to take admission in post graduate program in your concerned field of studies. so first of all you have to download admission form from the above given link. after getting the form you have to fill in completely and attach the required documents with your form including GAT Subject and GAT Special test result card. as well as you also have to attach your academic documents, CNIC and Photographs with your form. your documents should be attested and verified. now you have to submit this form to the admission office counter for the post graduation admission before till the last date of submission of admission form.
Last Date to Submit Applications:  4th August, 2017
You can get the ''Application Forms'' from the respective department/ Center/ Institute/ College/ School from the date of 24th July, 2017. And you must make sure to submit your application to the required place before 04th August, 2017. Forms should be filled properly and supported by the attested copies of all educational certificates/degree to the Director Chairman by 4th August,2017. Application forms are also available on www.pu.edu.pk/dpcc . The students whose terminal degree result is not declared they can submit their result by Four August on the date of interview. Prospectus can be get from the respective department of the University. All the students will have to give the entry test and pass it anyway. So all the students must send your application latest by given date, and must submit you applications to the relevant Department/ Center/ Institute/ College/ School of the University.