Peoples University of Medical and Health Sciences for Women is offering admissions for postgraduate programs for the academic year of 2015. The candidates who are willing to apply are informed that admissions are open now. University is offering admissions in different programs of different departments. This university is situated at Shaheed Benazirabad at Nawabshah and was established in 21-12-2009 under the act of government of Sindh. Initially it was named as Peoples Medical College. The Lady doctors graduated from this college are about 6000 in number. When this college started its services, the first batch admitted was of approximately 100 students. After a short time a district hospital was attached to it. After that the progress of college is admirable as it progressed in many manners. University has an aim to develop an institute as a centre of excellence and to produce trained women medical professionals according to international standards. Here we are providing you all the details about the programs offered by the university. Also the admission procedure and eligibility criteria are described here. Information about entry test and merit list is also available here.
Peoples University Nawabshah Postgraduate Admission 2015 Entry Test, Merit List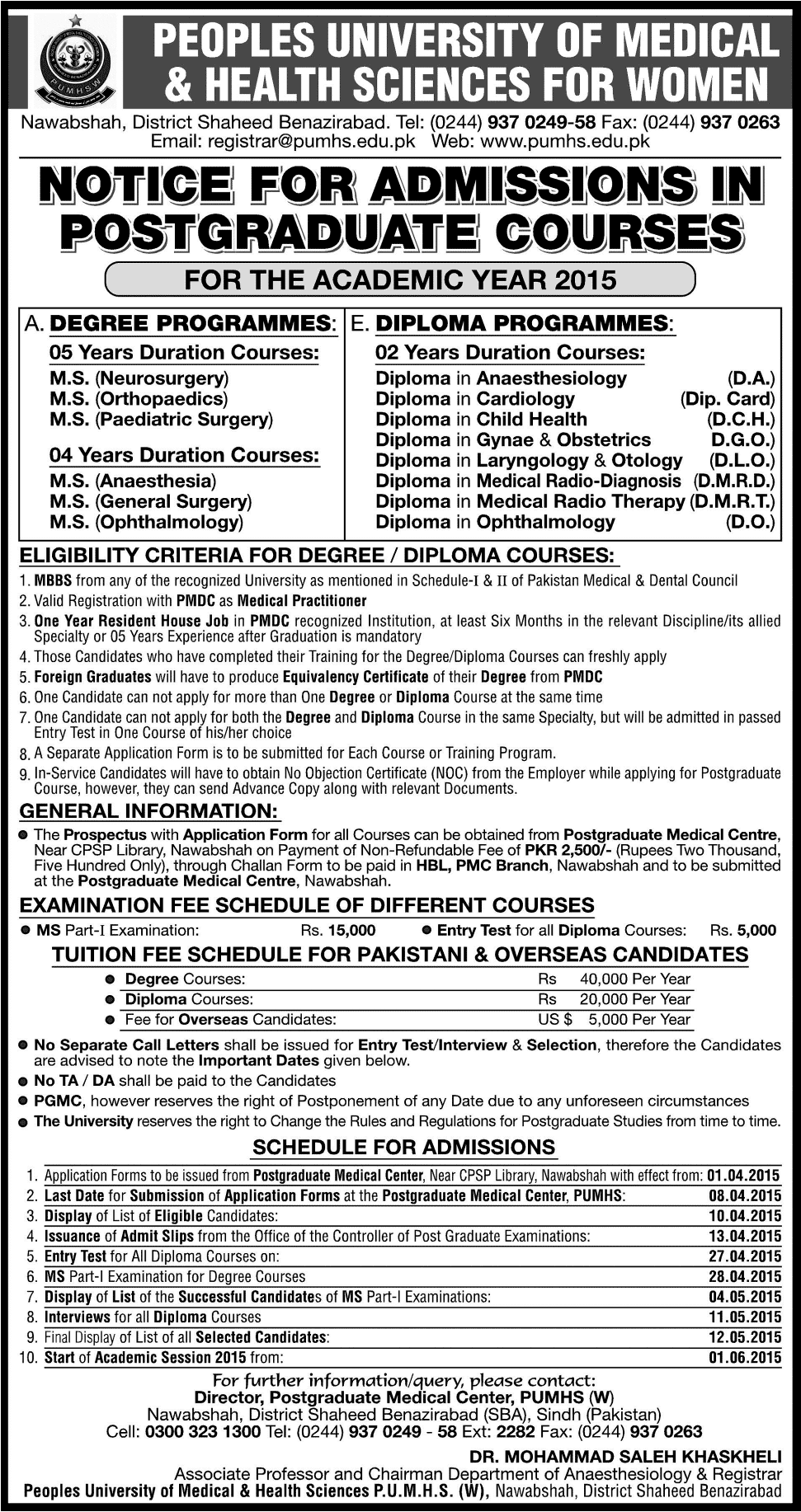 Postgraduate Courses Offered by the University
Degree programs of 5 years of duration in different departments of M.S. and Ph.D
Degree programs of 4 years of duration in different departments of M.S. and M.D.
FCPS-II Training in anesthesiology, E.N.T. General Medicine, Gynae and Obstetrics and more.
3 years duration M.Phill Training in different departments of M.Phill like anatomy, biochemistry and microbiology.
MCPS Training of 2 years departments like pediatrics and ophthalmology.
Diploma programs of 2 years duration in departments like cardiology, child health and clinical pathology.
Eligibility Criteria for all courses
Valid registration with PMDC as Medical practitioner.
Candidate must have done a one year resident house job from a PMDC recognized Institution.
MBBS with two years experience in relevant subject and valid registration with PMDC is must for M.Phill Course.
Candidates can not apply in more than one degree or deploma course at the same time.
The candidates from foreign countries must produce and submit their equivalency certificate of their degree from PMDC.
For each course or training program candidate must submit their separation application form.
Application forms and prospectus
After a payment of rupees PKR 2,500 candidates can collect their prospectus along with application form from Postgraduate Medical centre, near CPSP library, Nawabshah. This price must be paid at HBL, PMC Branch, Nawabshah. Collect the challan form and submit it at the postgraduate Medical centre.
Date for the commencement of entry test: 
Officials of university of medical and health sciences for women have announced all the dates regarding to the admission procedure. as far as it is concerned with date of entry test. here we are mentioning this date for u. Entry test (written test) will be commenced on 24/11/2014.
Date for the display of final merit list: 
merit list showing finally selected candidates after the entry test result will be displayed on the date suggested by the officials. The date given by the officials is 15/12/2014.