LUMS undergraduate programs, MBA Admission 2015 apply online last date is given here in detail. LUMS is offering Undergraduate and MBA admissions for the session of 2015. LUMS University was established in 1984 and is located in DHA Lahore, Punjab, Pakistan. This is a private research university which offers programs in science, arts, humanities, business and management sciences. LUMS is an abbreviation of Lahore University of management sciences. This university has 4 departments/schools which are named as Suleman Dawood School of Business, Mushtaq Ahmad Gumani School of humanities, Social Sciences and Law, Syed Babar Ali School of Sciences and Engineering and Shaikh Ahmad Hassan School of Law. Admissions 2015 offered by LUMS will be given in the above mentioned departments/Schools. Besides this, LUMS has also given certain eligibility criteria and terms and conditions in order to get admissions. All this is to ensure the abilities of students who want to get admissions in LUMS Undergraduate and MBA programs. Here we are giving you all the information related to LUMS Undergraduate programs and MBA Admissions 2015. The candidates who are willing to apply for these admissions are required to read this post thoroughly before applying. Eligibility criteria, online application process and relative last date are also mentioned here in this post. Online application forms are also uploaded here on our website. for further more information regarding to LUMS Undergraduate Programs, MBA Admission 2015 apply Online last Date you are required to stay in touch with us as we will keep updating you with all latest news about these admissions 2015.
LUMS Undergraduate Programs, MBA Admission 2015 Apply Online Last Date
Undergraduate available programs
MBA program is also offered as mentioned above.
LUMS Undergraduate programs, MBA admissions 2015 eligibility criteria
The candidates who are willing to apply for the mentioned above courses/ programs are informed that candidates are required to fit in the eligibility criteria given by the officials of LUMS. For MBA and EMBA Program candidates are required to have passed GMAT test. GMAT is a graduate management admission test which is conducted in order to get admissions in universities of management sciences. For Undergraduate programs candidates must have qualified SAT test or LUMS SBASSE subject Test in any three subjects of Biology, Chemistry, Mathematics II-C and Physics.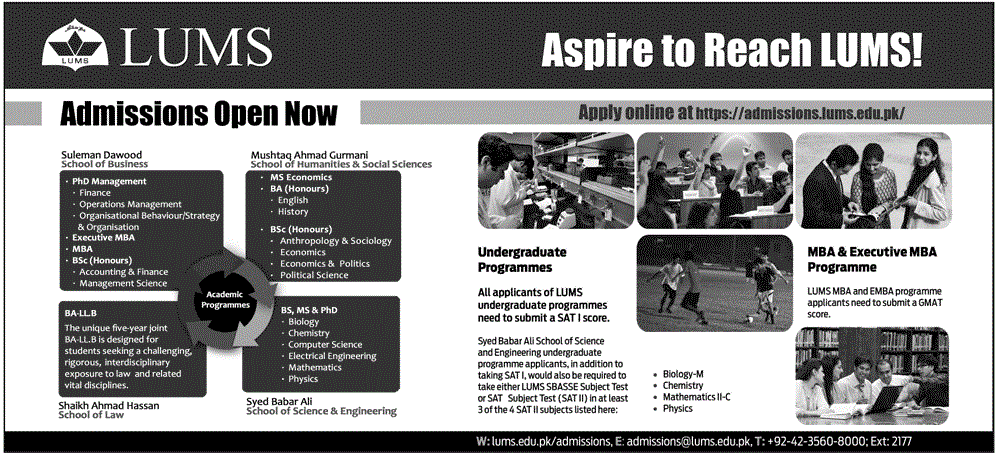 LUMS Admissions 2015 Apply Online
The candidates who are willing to apply for the mentioned above courses and are eligible as well are required to apply online at LUMS. Officials of LUMS have given a standard way to apply online for admissions. Below we are giving you a link, by going to that link candidates can apply online at LUMS. On the link given below, candidates are required to sign up for LUMS Online admissions 2015. If the candidates already have an account then candidates can also sign in. After this candidates will be subjected to the online application form. Here in the link for you.
Click Here to Get Online Application Form
LUMS Admissions 2015 Respective last dates
The candidates willing to get admissions at LUMS are informed that LUMS have given certain dates regarding to admissions procedure of 2015. According to that dates admissions will be carried out in two rounds. Last date to submit application forms for first round is given as 12th February 2015 and as for second round is given as 19th March 2015. Further dates are given in the below link.