IBA (Institute of Business Administration) Karachi Spring admission for BS, MS, PhD for the year of 2015 are open from now. It is informed to all the candidates who are willing and eligible for the admission in IBA Karachi that last date of the admission and the information about the collection of the forms is declared by the institute. IBA was established in 1955 with a technical but initiative support of Wharton School of Finance which itself is world famous. Later on the support was shifted to the University of Pennsylvania. IBA is always serving its students with a high faculty staff. Prominent American professors and scholars from these institutions developed different methods to satisfy the minds of students. Evening programs are also offered since 1957 when the institute offered first evening program. IBA always believed In providing a suitable environment to the students. The whole staff is working together to enhance the skills and the knowledge of its students. Institute is providing basic facilities to make the comfort of students. University is offering programs every year so it is offering different programs also in 2015. Here you will be given all the basic information about the programs and admissions as well.
IBA Karachi Spring Admission 2015 BS, MS, PhD Form, Last Date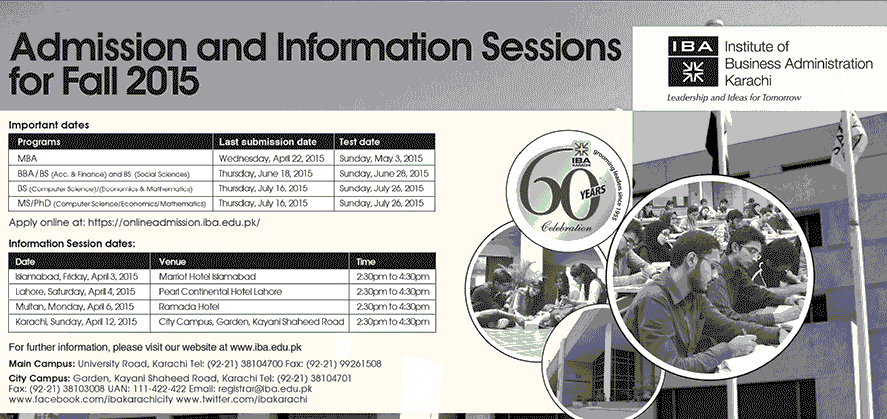 Click here for online application form
Programs- Spring 2015
BS (Social Science & Liberal Arts)
BS (Computer Science)
BS (Accounting & Finance)
MS (Computer Science)
PhD (Economics)
PhD (Statistics)
PhD (Computer Science)
Last Date details:
MBA form submission last date 22nd April 2015
BBA/BS abd BS Social science 18th of June 2015
BS computer science 16th of July 2015
Test date details:
MBA test date is 3rd MAy 2015
BBA/ BS test date is 28th of June 2015
BS testd date is 26th of July 2015
MS/PhD test date is 26th of July 2015

For further information about IBA please visit its official site or tell: (92-21)38104701 or Fax: (92-21)99261508 or go to the Main campus: University Road, Karachi.