This is an advertisement Page for Jinnah Sindh Medical University Karachi MBBS, BDS Admission Notice. The purpose creates this Page is to acknowledge those students who wants to get admission against programs offered by University in every Year academic Cycle. The Innovative Leader in Developing Healthcare Professionals with High Profile in Research, Education and Patient Care. The Jinnah Sindh University serves the Health Care sector with JPMC Branch, Barkat-e-Hyderi Branch, Kehkeshan Clifton Branch (Boar Basin), Defense Housing Society Branch, Gulistan-e-Johar Branch and Hassan Square Branch.
This Medical University currently works with Pathology, Biochemistry, Community Medicine, Pharmacology, Forensic Medicine, Physiology, Anatomy and PDC Department in Health Care Sector In Karachi.
Jinnah Sindh Medical University Karachi Admissions
Admission 2013-2014 Details:
Admission Starts On: – 12th September 2013
Admission Deadline: – 23 September 2013
Entry Test  By National Testing Service: – 6 October 2013
Note: Online Admission Form,Eligibility Criteria and Prospectus Of Jinnah Sindh Medical University Karachi MBBS Admission Notice will be available here at this page On 12th September 2013.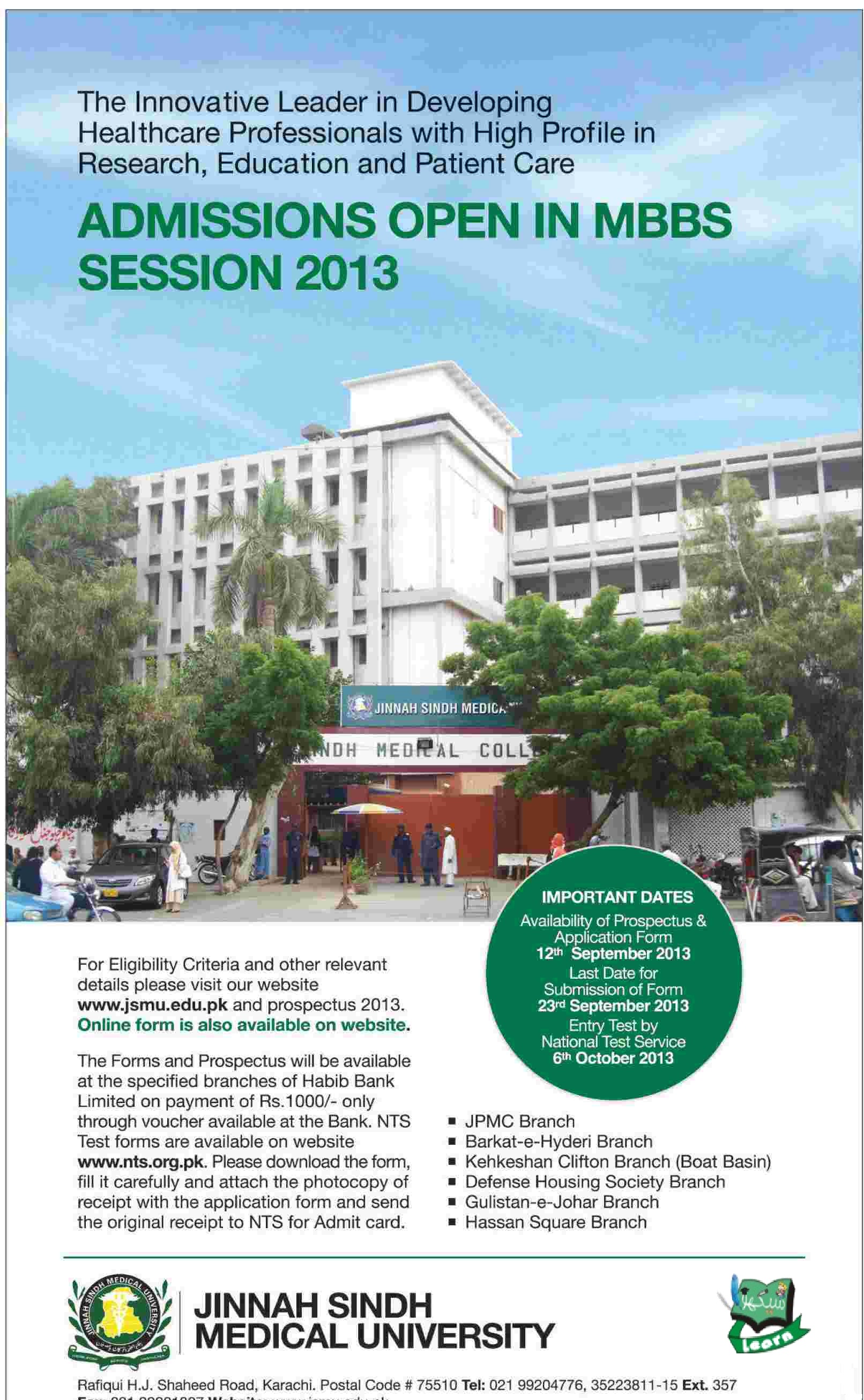 Like Other Best Medical Colleges Jinnah Sindh Medical University Karachi is also offering Digital Library, University Library, Transport Facility and Hostel Facility. These Kind of Facilities always attracts Students to get enroll against this Medical College. Actually Progress and assessment of Quality of Jinnah Sindh Medical University Karachi can be judged through the best personality (Prof. DR. TARIQ Rafi) attachment with this Institute so far.
Many Other Hidden Facts also temped Government. The Example of that Temptation can be clearly seen through Last Year 50M Funds Induction against Jinnah Sindh Medical University Karachi's Service in Health Care Department of Sindh Government.
The university also organizes Various International Speaker's Lectures to give International Exposure for Both Students and Faculty. The Best Thing about the University is that Jinnah Sindh Medical University Karachi is always updating each and every news on its Online Portal. The Basic purpose to upgrade news in such way to make easier for students to get Material at their home without visiting Campus. During Admission Days Admission form is also available Online.
Admission Form is also available here at this Page in above given Writing. For Any Query you can contact with University Admission Cell through Contact Details given in the Above official Advertisement. Comment Section is also there for you so that you can discuss your Query about Jinnah Sindh Medical University Admission Notice here on this page.