GCU Faisalabad Distance Learning Education Admissions are open to intake for below given Programs. Government College University Faisalabad striving always focuses upon Striving for Excellence and also having 6th Position in Higher Education Commission(HEC) Ranking System. According to this Distance Learning Education Admission Notice below given Programs are offered in Fall Semester 2013 both Masters and Bacholar Programs. Directorate of Distance Learning Education & Information Center announces to intake admission and Candidates have to play Rs. 400 through Bank draft for admission form that is also available here in below given writing.
Last Date to Apply is 10th September 2013

Note: Introducing Distance Learning Education Program for First Time by GCUF

Actually Distance Learning Program is not as formal as Regular Learning but still distance education has taken as an good alternative to the formal system of education in Colleges and Universities so far.The need of non-formal(Distance Learning Education Program) in various disciplines become more visible now a days in this society. The distance education helps to:
GCU Faisalabad Distance Learning Education Admissions 2013
Prospectus is available at the following Banks of Pakistan at Faisalabad given below:
National Bank Jinnah Colony Branch (GC University Booth)
Bank of Punjab Katchehri Bezar Faisalabad (GC University Booth)
Details of Programs,Eligibility Criteria as well as Admission Schedule is given in below advertisement:-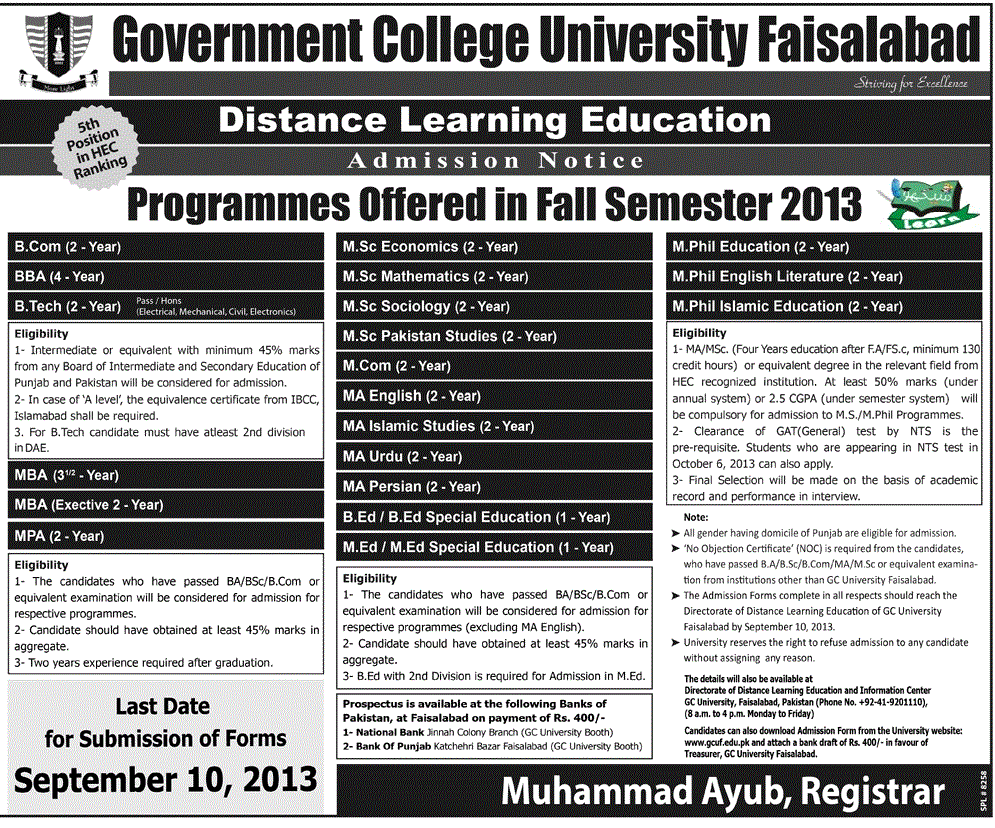 The details will also be available at Information Centre
(Phone No. +92-41-9200886), GC University, Faisalabad, Pakistan
(8 a.m. to 4 p.m. Monday to Friday)
Comment Section is there for you so that you can submit any kind of query about GCU Faisalabad Distance Learning Education Admissions 2013 here with us at this page.