GC University Lahore executive MBA admissions 2017 are now announced so candidates if you also wants to take admission in that university then here is your chance. Since the establishment of Management studies Department at GC University Lahore. Department always wants to facilitate students by the new Market Tactics by introducing Flexible Program. Actually Students always strives for getting Theoretical Knowledge as much as they can but before theoretical Knowledge we cannot ignore the importance of Practical Knowledge along with it. We all know that products in the shape of students already enriched with lots of education with much experience is always in demand. This Year GC University always introduce Executive MBA Degree for those students who recently complete their 14 years or 16 years of Education and wants to improve their designation with in the same Company.
Compete Package for Executive MBA Students Including Admissions Form, Admission Schedule, Merit Lists Dates, Boss Day, Entry Test Samples, Entry Test Details is available in just one Click. Note: After clicking in below given Red Sentence Link you will get all Executive MBA Package in thee form of ZIP File. You should Install Relevant Extension to view it.
GC University Lahore Executive MBA Admissions 2017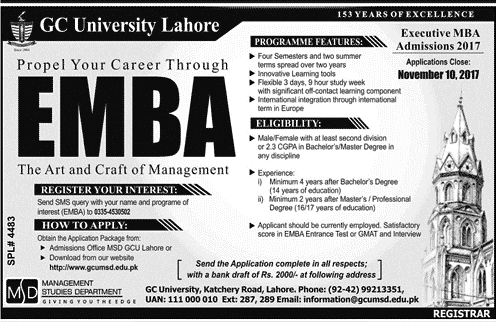 Last Date Is: 10th November, 2017
So this Admission Notice Write up is only for You. If you got 14 years of Education and having 4 years of Experience after that degree than you are eligible for this GC University Lahore Executive MBA Admissions and if you are having 16 years of Education and after that filled with 2 years of experience than this is best opportunity to study in GC University if you fulfill all requirements University wants to in this case of admissions. MSD of Government College University Lahore is one of the top providers of management education in the country. This is essential degree for those who always stress upon the quantity of Education even after getting involve in Practical Career. So in other words you can say that this is necessary for Accelerated Career Growth.
Since 1864 GC University always think about the students career as also clearly expressed through this degree. This is actually Four Semesters and two summer terms spread over two years filled with Innovative Learning Tools. This Program actually Flexible 3-day, 9 hour-study week with significant off-contact learning component. Students can also avail International Integration through International Term in Europe.
After getting answer you can share with us through below given comment section only about GC University Lahore executive MBA admissions 2017.