Balochistan University of Information Technology, Engineering & Management Sciences announce to intake Spring Admission 2013 for receptive programs as listed here in further writing. BUITEMS which is Balochistan University of Information Technology, Engineering & Management Sciences in Quetta serving the culture from the previous 10 years with quality & Excellence in Education. This is a Higher Education Commission Recognized Public Sector University and successfully achieved its 10 years of Commitment, Devotion and Excellence at that many areas still having an ancient ideology and mind set.
Last Date for Form Submission is 17 February 2013
BUITEMS Spring Admissions 2013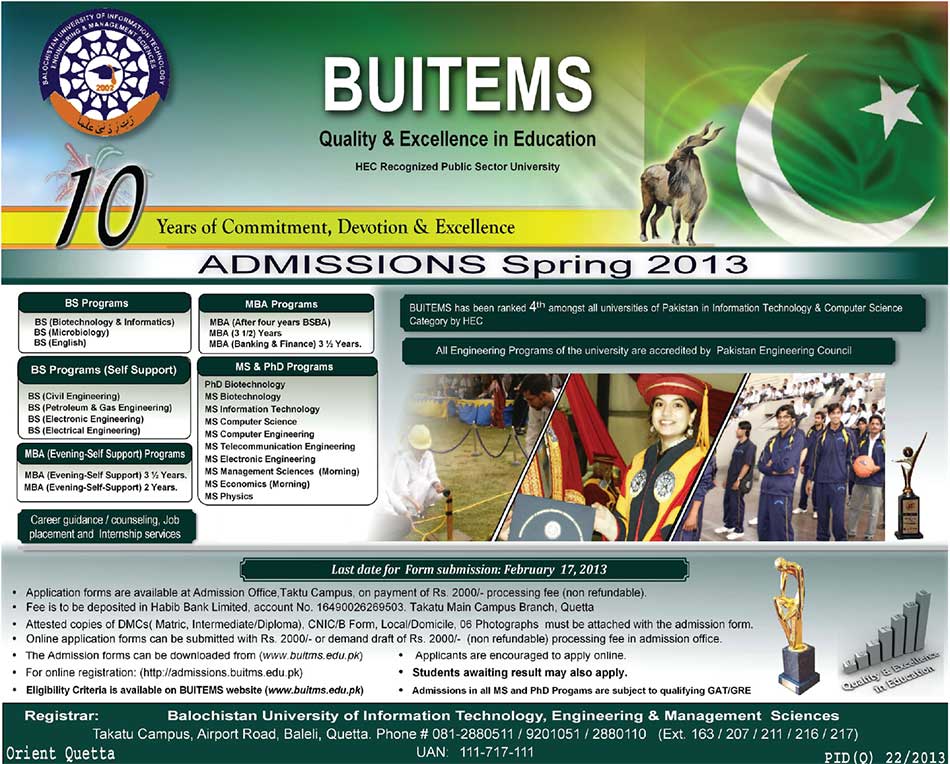 To change entire thinking of personalities over there in Balochistan University of all fields struggling for the previous many years and its success ratio is constantly going with one another.BUITEMS has been ranked 4th amongst all universities of Pakistan in Information Technology & Computer Science category by HEC. All Engineering Programs of the University are accredited by Pakistan Engineering Council (PEC). In admission Notice there are three different types of MBA are currently offered by the University. MBA after four years BSBA, MBA of 3 1/2 years and an MBA (Banking & Finance also comprise of 3 1/2 years.
MS & PhD Programs includes PhD Biotechnology, MS Biotechnology, MS Information Technology, MS Computer Science, MS Computer Engineering, MS Telecommunication Engineering, MS Electronic Engineering, MS Management Sciences (morning) and MS in Physics. BS Programs also offered by University titled under the BS in Biotechnology & Informatics, BS (Microbiology) and a BS in English. Self Support BS Programs includes a BS (Civil Engineering), BS Petroleum & Gas Engineering, BS Electrical Engineering which is high in demand. MBA Evening Programs also offered with two different duration one is Evening Self Support of 3 1/2 years and 2 years.