National Textile University Faisalabad Undergraduate Admissions 2014 are offered in all programs like BBA,BS,BSC and MS in computer Science and MSC and PHD in Textile Engineering. All the candidates who want to get admission in NTU have a great chance to apply here. All the eligibility criteria and Last Date of Submission of Application form for Undergraduate Program is given here.A group of visionary industrialist conceived a great idea of developing a Textile institute of world fame in the year of 1954. After that idea a great concentration by Government of Punjab is given to this leading textile industrialist to develop an institute of Textile Technology in Faisalabad and given sixty-two acres of state without any cost to them. On the other hand Kohinoor Industries, Colony Textile Mills, Lyallpur Cotton Mills and Dawood Foundation provided them funds to the tune of Rs. 2.5 million, which were utilized for the construction of building and provision of other infrastructures. This institute is on of the oldest institute of Pakistan, the foundation stone of this institute was laid by the then president of Pakistan, Muhammad Ayub Khan and Government of United Kingdome granted latest machinery and equipment's along with the services of experts under Colombo Plan.
So the establishment of this institute of Textile Technology took place in the year of 1959 and after that it was upgraded as National College of Textile Engineering (Affiliated with University of Engineering and Technology in the year of 1976 and the recent upgration of NCT to NTU took place in 2002.
NTU entry Test:

7  September, 2014
National Textile University Faisalabad Undergraduate Admissions 2014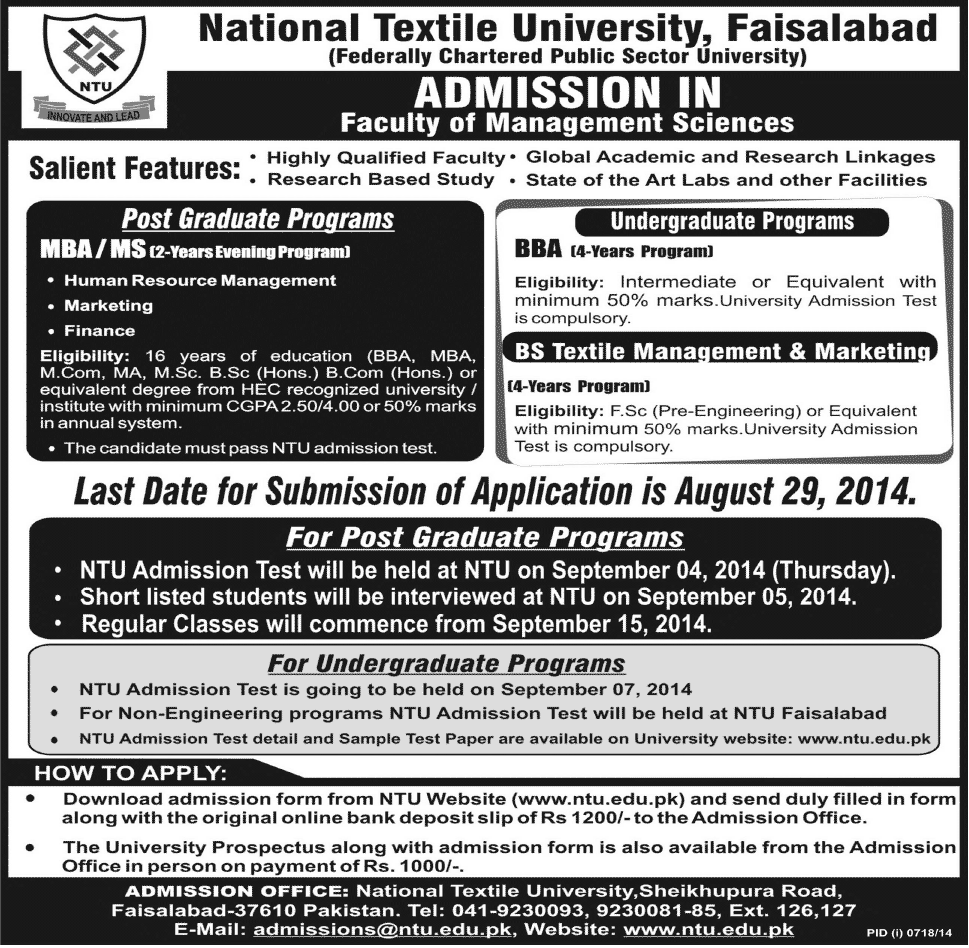 How to apply:
You have to download and application form from NTU website , you can also download form this site .After getting this form, fill it dully and attach all the relevant documents with it. After completing all the terms and conditions , send the filled form along with original online bank deposit slip of Rs 1200 to the admission office before last date for submission of application form.All other information is available about how you can apply for the national university of textile in Faisalabad.Online Form also available for applying in this university keep visiting us for further information as well.