Pakistan steel cadet college is offering admissions 2014 in 8th class. It is an educational residential institute that is managed by the Pakistan Steel Mills Corporation. In this cadet college admissions are given from 8th to 12th class. Science and humanities both the subjects are under consideration of this cadet college. Despite to studies, extracurricular activities are also provided to the students to keep them fit physically and mentally together. Facilities like library, computer labs, labs, medical, clubs, recreational activities and college magazine are also available in the Pakistan Steel Cadet College. This cadet college was established in 1981. Since that it is known for the quality education that is given to the students to make them brighter for further studies. Pakistan Steel Cadet College prepares the students for the secondary school and intermediate examinations. It has been seen that the students that are studied from the cadet college give more competition in studies and ultimately give a better result in the annual examinations. Maybe this is the reason why people prefer Cadet College for their children. Among other cadet college it is the most efficient one. Students from all over the Pakistan come to study in this Pakistan steel Cadet College. The admissions will be given after the written test. So we are giving you all the information about the written test and dates related to it are mentioned below as well.
Pakistan Steel Cadet College 8th Class Admission 2014 Written Test Result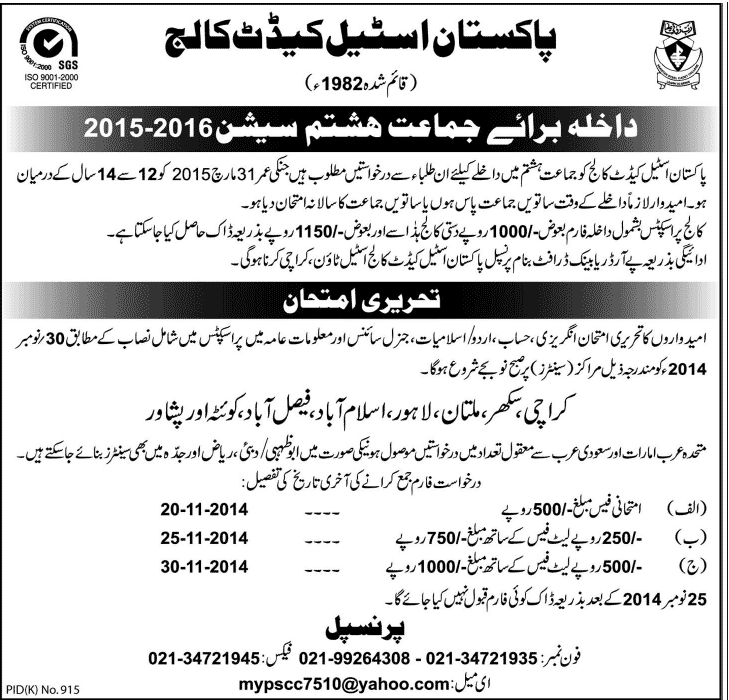 Cities for the Commencement of the Written Test
Karachi
Sakhar
Multan
Lahore
Islamabad
Faisalabad
Queta
Peshawar
In case of applications from United Arab Emirates and Saudi Arab the examination center may also be given in Abu Dhabi or Dubai.
Written Test Details
Test will be conducted according to the given syllabus given in the prospectus in the subjects of English, mathematics, Urdu/ Islamiat, general science and general knowledge. The test will be conducted on 30th November 2014 at the listed above centers. Test fee will be Rs. 500/-. Respected date are given in the advertisement.
Note: college prospectus including admission form can be collected from the college after paying an amount of Rs. 1000/- and Rs. 1150/- in condition through post.