Fatima Memorial System is offering MBBA and BDS Admissions for the year of 2017. Admission Forms for getting admissions in FHM and Last date for submission of application is provided for the ease of candidates want to get admission in FHM.A scholar dreamed Fatima Memorial System, Late Maulvi Ferozddin and he is the founder of Forepersons Trust in the year of 1944 and since then he has a history for serving the humanity in different ways. The vision of this foundation was a true translation of the single minded dedication of an undisputed name in the history of Fatima Memorial System is Begum Saida Waheed, Alhaj, Maulvi Ferozuddin's daughter in Law, who combined the resources to made FHM in the year of 1977 as a foundation serving women plus children. Currently FHM has emerged as a multidisciplinary, state of the art healthcare organisation facilitating with world class services. The hospital has a 35 years old history of selfless services to humanity where 3.96 million patients have been treated out which 85% were treated either voluntarily or at highly subsidized rates. FHM is now open the admission and FMH Medical College MBBS, BDS admission 2017 Form, Last Date, Fees and all other details are given here. With MBBS and BDS Degree FHM is also offering degree in the following disciplines:
Doctor of Physics Therapy (DTP)
BSc (Hons) Medical Imaging Technology
B.Sc (Hons) Medical Lab Technology
B.Sc (Hons) Speech & Language Pathology
B.Sc (Hons) Dental Technology
B.Sc (Hons) Audiology
B.Sc (Hons) Optometry
B.Sc (Hons) Nutrition
B.Sc (Hons) Dental Hygiene
B.Sc (Hons) Nursing
Admission Schedule:
Admissions Open

: August

, 2017 to 30th August, 2017 (09 am to 03 Pm)
Address:
Gen. Attiq-ur-Rehman
Auditorium, Fatima
Memorial Hospital,
Shadman, Lahore
FMH Medical College MBBS, BDS Admission 7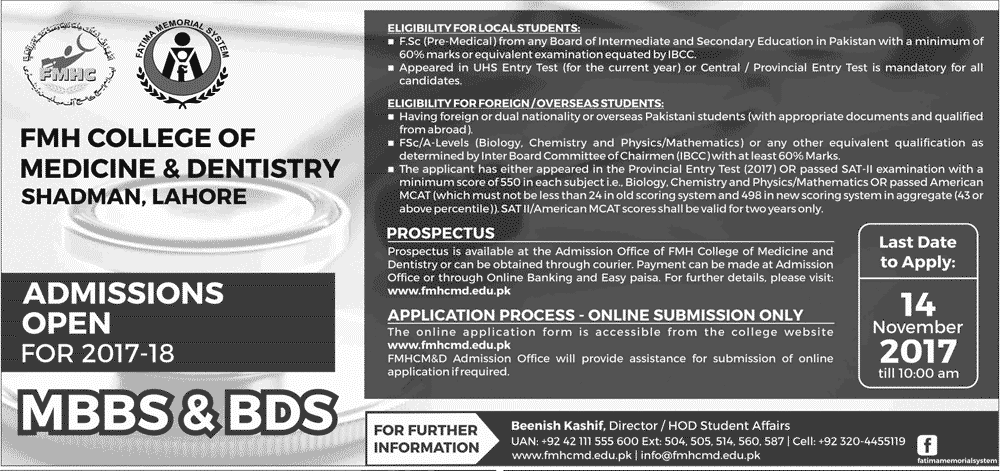 Candidates want to apply get prospectus form the Main Reception of FMH College pf Medicine & Density for Rs. 1500 for MBBS and BDS. Applicants can also order copy of prospectus through courier by sending a bank draft of Rs. 2000 for locals or US $100 for overseas & Foreign students in Favor of FMH. Online application form is accessible from the college website, candidates who do not have internet access or computer facility  can get from the admission office of FMH. Application forms can be submitted along with the required documents at the admission office of FMH or can be submitted through the courier along with the bank draft of Rs. 2000 as application processing fee.
Hence the details about FMH medical college MBBS, BDS admission 2017 have discussed here. You have to apply before till the last date otherwise any admission form receive after last date will not be entertain on any case by the officials.