LCGG(Lawrence College Ghora Gali) Murree starts admissions 2013. Lawrence College Ghora Gali Nurree a hundred and fifty two years old residential institution of International reputation with glorious traditions offers golden opportunity to the talented youth for admission to Class-1 (fresh admission) and Class II to VIII as per the availability of seats (Including GCE 'O' Level, from Cambridge University) for the academic session which will be starts from March 2013.
Issuance of Prospectus cost Rs. 500/- in cash or postal order for Rs. 550/- (in Pakistan). D.D for 30US$ (Outside Pakistan): 15th October 2012
Last Date for submission of forms: 15th November 2012

Last Date for submission of forms with late fee @ Rs. 1000/- : 30th November 2012
Admission Test at Lawrence College Murree Lahore and Karachi at 1000 hours: 30th December 2012.
NOTE: Test and Interviews will also be held under the supervision of overseas Pakistanis Foundation at Verious Embassies/High Commissioners for the OPF candidates.
Lawrence College Murree Admissions 2013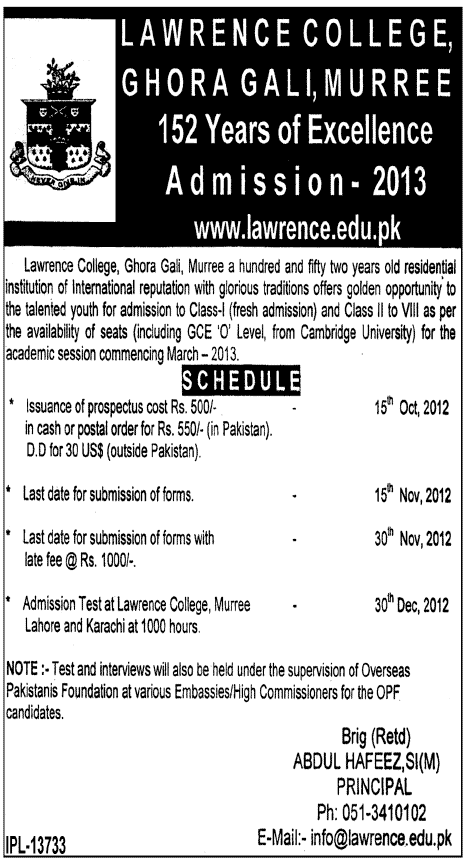 You can reach us on the following address:
Principal office : 051-3410102
Fax (Principal Office) : 051-3411771
Head Master Senior School : 051-9269067
Head Master Prep School : 051-3412770, 3414020, 3413264
Head Mistress Junior School : 051-3412770, 3414020, 3413264
College Exchange : 051-3412770, 3414020, 3413264, 051-9269056-57