Assistant Director Ministry of Defence jobs were offered by Pakistan Government and the selection of all the candidates were based on NTS test. Candidates who will pass the entry test they will be called for interview and then they can get job of assistant director (BS-17) & Staff Grade.Ministry of Defence MOD Selected Candidates List For Interview 2014 is given here and candidates can check their name in the list. The Ministry of Defence initially called as Defence Ministry, it is a Cabinet level ministry tasked with coordination and supervising all major government agencies and federal departments of the government relating to National security and the Pakistan Defense Forces. The MoD plays an vital role in allocation and formulating the defence budget and pertains military exercises to all branches of Pakistan Armed forces engaged in the defence of the country. The organization and functions of the MoD are set forth in the Part XII, Chapter II (Miscellaneous) of the Constitution.The MoD is responsible for defending the state of Pakistan from external military and non-military threats.
The MoD's political executive figure is known as Defense Minister and the current Def Min is Parliamentarian Khawaja Mohammad Asif. Recently MOD offered the jobs of Assistant director and now the list of Selected candidates has been announced by NTS.
CLICK HERE
to check List of Selected Candidates for Interview
Ministry of Defence MOD Selected Candidates List For Interview 2014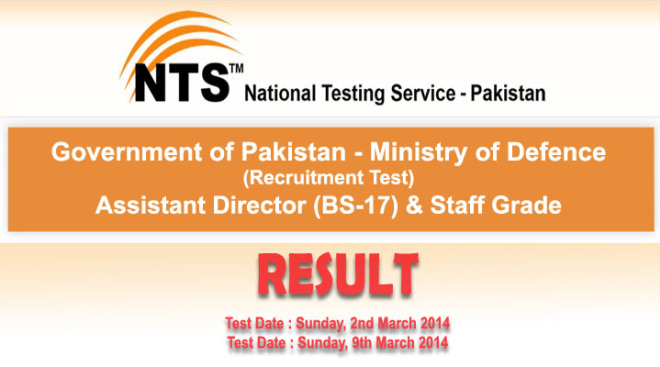 Ministry of Defence hired NTS for conducting MOD Assistant Director entry test 2014, NTS is National Testing Service of Pakistan .In response to expressed need for a testing service in National Education Policy and IT Policy of Government of Pakistan it was established in July, 2002 it is an organisation in Pakistan that administers academic performance evaluation tests. It is similar to Educational Testing Service EST in United States. NTS offers two main tyoes of tests, the National Admission Test (NAT) and the Graduate Assessment Test (GAT). Nts is a Member of the International Association for Educational Assessment USA. Now NTS has announced the result and given MOD Selected Candidates List For Interview 2014. All you need to do is to give your CNIC and list of candidates will appear on the screen. Test Test held on  2nd March  &  Second test was held on Sunday, 9th March 2014. Keep in touch with this site to get more updates about Ministry of Defence NTS test result for next jobs.