FIA NTS Test Roll No Slips 2014 Download Candidates List For 5th July Test.Details about FIA NTS Test Roll No Slips 2014 Download Candidates List for 5th July Test are available here on our site. The test of FIA is being taken by the Premier testing organization of Pakistan NTS. NTS is Pakistan's first independent self sustained, autonomous organization which is governed by a governing board, and registered under section 42 of the companies' ordinance. National testing service is established with an aim to provide talented students to the educational institutions and competent human resource to organizations by conducting standardized test at all. Having completed more tan twelve years successfully in operation, NTS has now emerged as the only credible testing organization of the country, which assesses the competency of the candidates for admission, scholarship and requirement purposes in efficient and transparent manners. So it is the organization which is building standards in education and professional testing and assessment.
FIA NTS Test Roll No Slips 2014 Download Candidates List For 5th July Test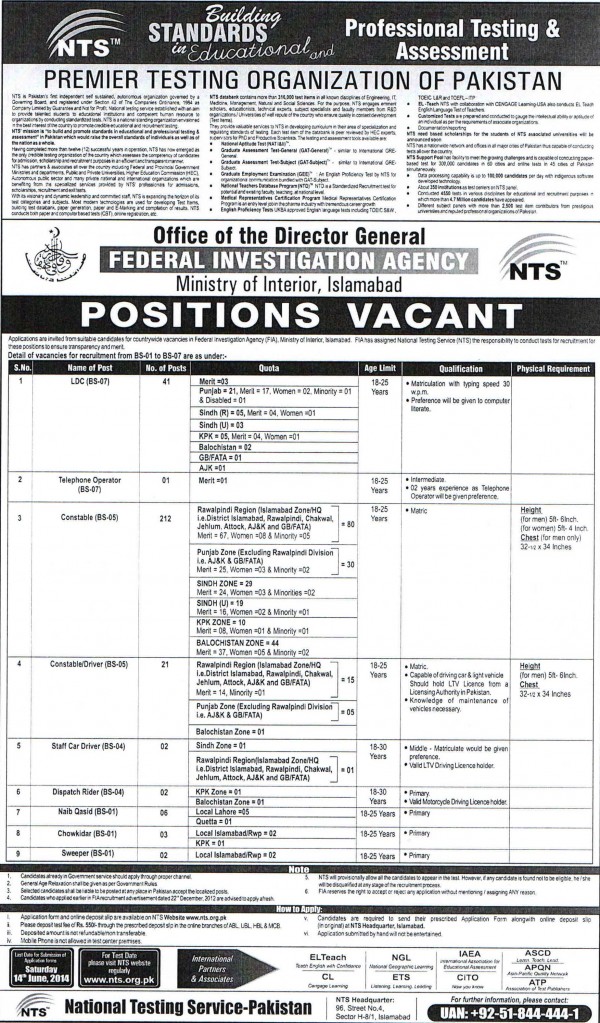 Here the same thing is getting happened the test for Federal Investigation Agency, Ministry of interior, Islamabad. Some important information's about this test and applying for giving this test are here, Candidates already in government service should apply through proper channel, general age relaxation shall be given as per government rules indeed, selected candidates shall be liable to be posted at any place in Pakistan accept the localized posts. Candidates, who applied earlier in FIA recruitment advertisement dated 22th December, 2012 are advised to apply afresh.
Applications forms and online deposit slips are available on NTS official website www.nts.org.pk. You are informed to deposit test fee of RS. 550/- through the presubscribed deposit slip in the online branches of ABL, UBL, HBL an MCB. Candidates are required to send their presubscribed application from along with online deposit slip and fee at the NTS Headquarters, Islamabad. You are also informed that the application submitted by hand not be acceptable. Last date for submission of applications is Saturday 14 June, 2104.