ECAT Test which is the Engineering College Admissions Test in Pakistan has recently in the past a decade or so has gained immense significance as far as admissions are being concerned for the engineering colleges and universities in Pakistan. ECAT is basically the entrance test for the engineering universities that is if an individual is willing to acquire the admission in any of the engineering educational institution so it is mandatory for the candidate to appear in the ECAT examination and should also pass it because until or unless the candidate will not pass the entrance examination they will not be given the admission in any of the respective engineering institution in Pakistan.
ECAT Test In Pakistan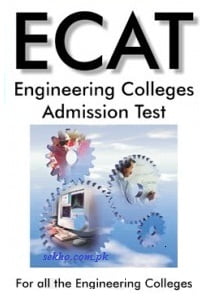 Pakistan Engineering Council which is denoted as PEC is the authoritative body who has enforced this entrance examination of the students and this obligation is made compulsory to both the Governmental institutions as well as the Private engineering institution in Pakistan. Every university or college takes the ECAT examination for their university and there are also several universities which have the credibility through which their ECAT examination can be accepted by several other engineering universities. In this regard University of Engineering and Technology is one engineering institution who has the authority of taking the ECAT and examination and due to their immense goodwill and high standards the ECAT conducted by UET stands valid for several other universities of the country.
The ECAT examination is based on Multiple Choice Questions and there are four respective subjects from which the questions are being derived. These four major courses include Physics, Chemistry, Mathematics and English respectively. ECAT examination is valid only for that very year as its validity expires after the year in which the candidate has appeared in the examination. So if due to some unfortunate reason the candidate is unable to pass the ECAT examination or of even he or she has passed the exam but due to some reason didn't occupy the seat than for the next year they previous ECAT will not be valid and for this purpose they have reappeared in the exam for the next current year.
The main purpose behind the implication of ECAT examination for the entrance in Engineering colleges and universities is to bring a unified process of admission as far as engineering universities are concerned and this gives equal opportunity to all the candidates who are willing to appear in the exam of Engineering and at the same time this helps the universities to set the admission process and establishment of merit criteria unbiased and fair.