If you are mobile internet users and you want to get fast internet with reasonable rate then yes you are at right place because here we are sharing Zong Daily and Weekly, Monthly, Unlimited Internet Packages Detail also with subscription and unsubscribing method details so read further details that are collecting through Zong officials. Last few years ago in Pakistan smartphone users was not using mobile internet due to slow internet service but after 2014 mobile internet users number of ratio is increasing due to 3G and 4G internet service. In Pakistan different telecommunication companies is providing 3G internet service but Zong is only one company that is providing 4G internet service before warid 4G internet service. This is a reality Zong internet packages is good for all type of Zong user like if you are business man, students and other person who want to pick fastest mobule internet then yes zong 4G internet is providing different internet packages according to different users requirements. so in below side get Zong Daily And Weekly, Monthly, Unlimited Internet Packages Detail.
Zong Daily And Weekly, Monthly, Unlimited Internet Packages Detail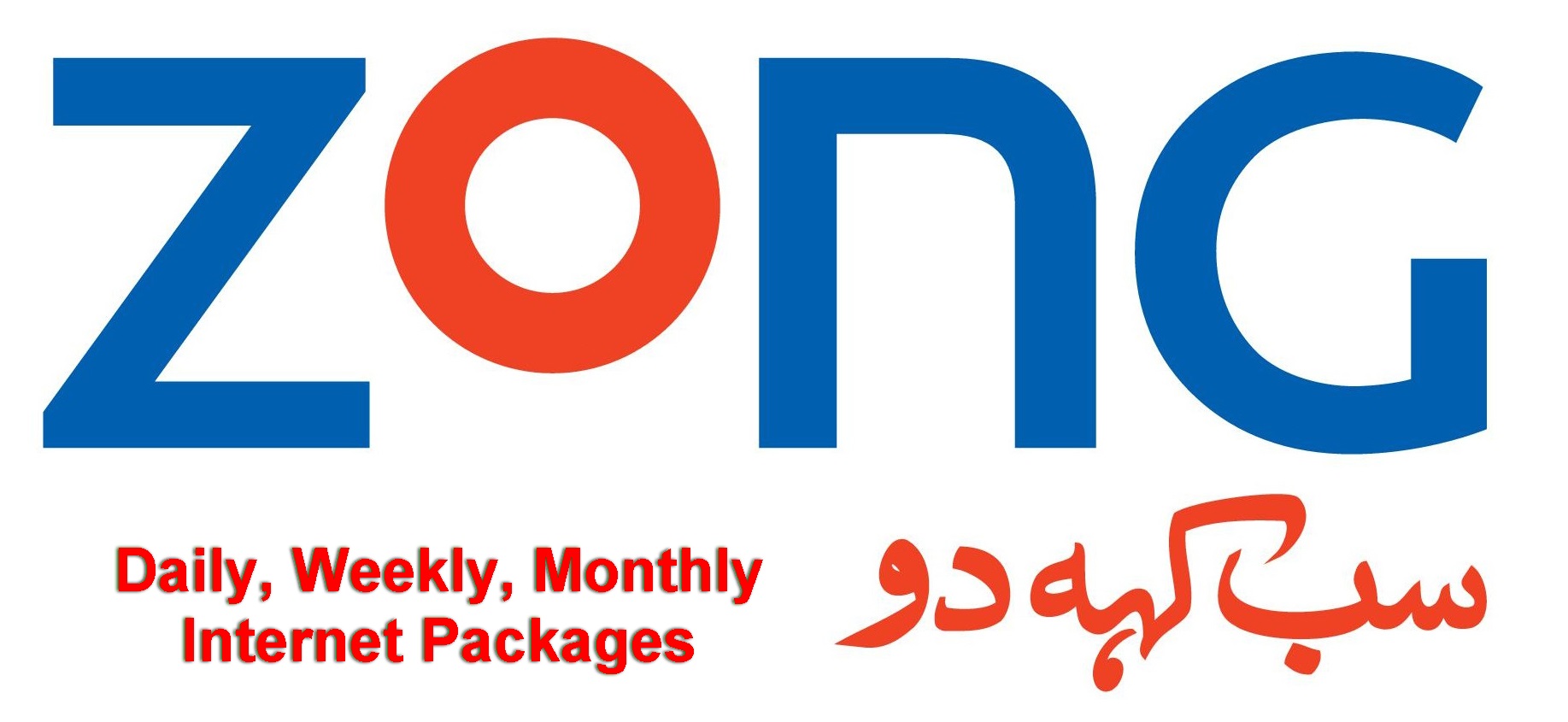 Zong Daily Internet Packages Detail:
Zong4G internet service is providing daily internet package for zong mobile internet users so through zong daily internet packages you can get fastest internet for one day by subscribing followings…
Charges
MBs
Validity
Subscription
Daily Basic
Rs. 15
100MB
1 Day
*6464#
Daily Data Max
Rs. 35
500MB
1 Day
 

Zong Weekly Internet Packages Detail:
zong is providing weekly internet packages in below you can get weekly internet package activation and charges details.
Charges
MBs
Validity
Subscription
Weekly Premium
Rs. 70
700MB
7 Days
Subscription
Super Weekly
Rs. 100
2GB
7 Days
Super Weekly Plus
Rs .120 +Tax
2500 MB
7 Days
Zong Monthly Internet Packages Detail:
Charges
MBs
Validity
Subscription
Monthly Mini 150
Rs. 50
150MB
30 Days
*6464#
Monthly Basic 500
Rs. 150
500MB
30 Days
Monthly Premium 3GB
Rs. 300
3GB
30 Days
Monthly Premium 10GB
Rs. 600
10GB + free nights (1GB FUP) 1am to 9am/Daily
30 Days
Zong Unlimited Mobile Internet Packages:
Zong all internet packages is available on this page but no one Zong internet package is available with unlimited mobile internet package but here we want to mention Zong "daily Unlimited Internet package will offer after 3 month according to zong company.
Plans
Price
MBs/ GBs
Validity
Monthly Packages
Rs. 1,500
24GB
1 Month
Rs. 2,500
50GB
1 Month
Rs. 5,000
100GB
1 Month
Rs. 8,000
150GB
1 Month
Rs. 10,000
200GB
1 Month
3 Months Packages
Rs. 4,000
24GB/Month
3 Months
6 Month Packages
Rs. 10,000
50GB/Month
6 Months
12 Months Packages
Rs. 18,000
50GB/Month
12 Months
3G and 4G Internet Advantages:
Get fastest internet on your mobile
Download movies, games, songs, videos
watch online movies, drama
use Viber, Skype, Whatsup
Zong Social Internet Packages:
If you want to use whatsapp, facebook, Twitter or any other socializing app then you can subscribe the following packages.
| | | | |
| --- | --- | --- | --- |
| Social Pack (Facebook, WhatsApp, Twitter) | Rs. 10 | 100MB | 1 Day |
| Classified Pack (Daraz, Lamudi, Kaymu, PakWheels & Carmudi) | Rs. 5 | 50MB | 1 Day |
| Facebook Daily | Rs. 5 | 50MB | 1 Day |
| Whatsapp Daily | Rs. 15 | 300MB | 1 Day |
| Twitter Daily | Rs. 2 | 20MB | 1 Day |
so these are all the details about Zong daily and weekly, monthly, unlimited internet packages. I am hoping that you have find a best package for your use. but in case you have any suggestion or query relating to these Zong internet packages then you can add your comments in the following comments box.
Save