Here I have discussed all the Warid SMS packages daily, 3 day, weekly, monthly subscribe code unsub string. Warid LTE message packages are in listed here along with type, charges, sms count validity days, activation and counter (deactivate) code. So if you are using Warid network and want to choose the best sms package of Warid LTE then you are suggested that once read this entire post and then subscribe the best package for you whether for daily, weekly, 3 days or monthly. Moreover you are also informed that you must be familiar with the fair policy about Warid sms packages that is written in the terms and conditions below of this passage. After reading that policy you will more convenient to keep on attached with a package. No doubt Warid provide the best ever sms packages with good charges that is easier ever for you than any other network. So if you are not a Warid user but thinking to shuffle on this network then I personally suggest you that join this fastest source of socializing through sending and receiving messages. Keep on reading to get a chart for Warid Daily, 3 Day, Weekly, and Monthly message packages.
Warid SMS Packages Daily, 3 Days, Weekly, Monthly Subscribe Code Unsub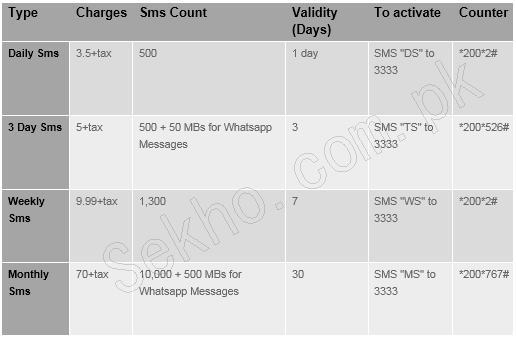 Note: Subscriber can also can unsubscribe a message package by sending "SMS OFF" to 3333
Terms and Conditions
All the above written packages are just for Warid Prepaid customers
Above packages could be changed any time but will be intimate through a message
Daily, 3 days, and weekly sms package will be renew automatically but monthly package will not be automatically renew
In case there is not balance in the account, a package will be automatically deactivated and as a user recharge his/ her account the package will be automatically renew
All the charges are included Govt taxes and levies as well as a 19. 5 % federal excise duty
Always keep in mind that your network is running under PTA security system
For More Details Click On the Headings Below
So this is all about Warid sms packages daily, 3 days, weekly, monthly subscribe code unsubscribe. Hope you are all have that what you are searching for. If you have any query you're FAQs about Warid SMS Packages, you can concern us via comment section below of this passage.