Ufone International Roaming Umrah offer 2022 all details are available on this page you can get clear all query about this offer so keep I touch with his page and get all given relevant details. Ufone leading telecom company that provides unique packages that based on cheap rates with beat services. Now lot of people perfume Umrah in these months from Pakistan and Ufone introduce cheap call rate international Roaming Umrah offer 2022 that base on very cheap calling rate so you will connect with your relatives and friends who will perfume Umrah.
 Ufone understand and hold in high regard the value of a truly blessed occasion like Umrah. That's why we strive to make it even more special for you, by coming up with offers that ensure that while you perform the holy duty, you are well connected with your loved ones around the world. Delivering on the promise, Ufone is proud to offer the International Roaming Umrah Offer 2022.
Ufone International Roaming Umrah offer 2022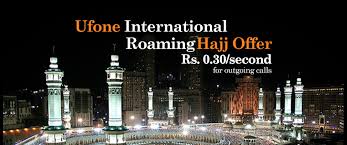 With Ufone IR Umrah Offer 2022, if you are on Mobily network when in Saudi Arabia, you can make calls (outgoing) to your family and friends in Pakistan or Saudi Arabia for just 30 Paisa per second (inclusive of tax). You can also receive calls (incoming) from your loved ones from anywhere in the world at just 48 Paisa per second (inclusive of tax).With absolutely zero hidden charges and bringing your special ones closer, Ufone International Roaming Umrah Offer wishes you a blessed Umrah.This offer is automatically available to all Ufone Prepaid customers without any extra charges.
Key feature of this Offer:
Tax-inclusive tariffs are Rs. 0.30 / sec for Outgoing Calls
Rs. 0.48 / sec for Incoming Calls
Rs. 59.75 for Outgoing SMS
offer is automatically available to all Ufone Prepaid customers
Offer available in including Tax no hidden charges include
No activation charges charge
Ufone Roaming Super Card:
Before departing for Hajj, recharge Roaming Super Card
Roaming Super Card
Free IR Minutes
(Incoming or Outgoing)
Free IR SMS
Validity
Rs .700
25
25
30 Days
Rs .1000
50
25
45 Days
 Offer Term and condition:
This offer is for prepaid customers only; Offer is not valid for Post-paid Subscribers;
No subscription will be required to avail this promo; this offer will be provisioned by default on all Ufone Prepaid numbers for international roaming.
Per second charging can only be applicable when subscriber is latched to Mobily Saudi Arabia.
Per second charging is only applicable for outgoing calls to Saudi Arabia & Pakistan only for other destinations standard IR tariff will be charged Per second charging is also applicable for incoming calls from anywhere around the world.
Charges for other services will be charged as per standard IR tariff
There are no hidden daily/monthly charges on this offer.
Standard published rates and charging shall apply on roaming to other networks in these selected destinations
Ufone keeps the right to change or terminate this offer
Using a SIM which is not in your name or allowing your SIM to be used by others is a crime – PTA
Ufone GSM is a registered trade mark brand name of Pak Telecom Mobile Limited
Get Details About Ufone International Roaming Hajj Offer 2022
 Hence these are all the Ufone international roaming Umrah offer 2022. You are getting two different options i.e. through your mobile sim or the second is by loading the roaming super card. Besides this if you want to get more Ufone packages you can check the home page of this website.