Here you can get brief information about telenor easypaisa ATM card and how to get and USE this all method explain on this technology page. In Pakistan technology are improved day by day and the companies invest on this sector like telecom sector.Here we discuss the telennoe Easypaisa firstly we explain the easypaisa concept the world of Convenience Easypaisa the largest branch less banking service in Pakistan offers the most convenient access to financial service for all Pakistani people if you have mobile number or if you have not that is not matter-able thing. Easypaisa offers service that would forever change the way you perform your financial transaction.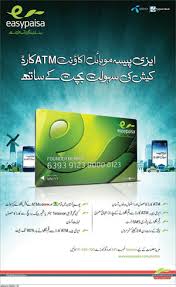 Telenor Eassypaisa
Telenor Pakistan has always been pioneer in innovative service in 2009 In this concept the partner named Tameer Micro Finance bank . They introduce branchless banking for the first time in history of Pakistan. that is the very important thing the Eassypaisa is not for limited to telenor subscriber its available for all mobile phone user . In fact people without mobile phone can equally enjoy this service. Customer have access to the easiest way to conduct their financial transactions, whether they are related to paying bill, sending or receiving money within Pakistan, receiving money from abroad, purchasing airtime easy load for their mobile phone or giving donation etc.  Any person can use Easypaisa services by visiting their nearest Easypaisa shop, telenor Franchise, Telenor sale and service center or a Tameer Microfinance bank branch.  This all concept are approved by the State bank f Pakistan.
Easypaisa ATM Card
Easypaisa now offers ATM cards for Easypaisa user that are available for all mobile Account customers from their nearest telenor service center or Tameer bank branch. These ATM cards will work on every ATM machine in all our Pakistan. You can use to withdraw cash from the Mobile Account directly. According to state bank these ATM cards are highly secure and also extremely convenient for Mobile Account Customers who do not need to go to an easypaisa shop to withdraw cash every time. These ATM card are available a all Telenor services center, Tameer bank branches as well a selected easypaisa retailers.
Product Features
Any existing or new Mobile Account Customer can get an easypaisa ATM Card
Easypaisa ATM cards works on all ATM (1-link and M-Net) locations across Pakistan
Mobile Account customers can do Cash Withdrawal and Balance Inquiry transactions using the ATM card
On every transaction using an ATM card, an instant SMS notification will be sent to the subscriber's mobile phone
For Cash Withdrawal, the customer's Mobile Account's daily and monthly limits will be applicable
Easypaisa ATM process
Walk into your nearest Telenor Service Center or Tameer Bank branch and request for the easypaisa ATM Card
The easypaisa agent will ask for your Mobile Account number and process your request
You will get an approval request from easypaisa (as shown below)
You can approve the request by entering your Mobile Account PIN
The one-time ATM card issuance charges will be deducted from your Mobile Account
Easypaisa ATM card limit
Easypaisa mobile account have limits will be applicable and the card issuance charges 200.00 rupees
Cash withdraw charges
Cash withdraw charges through the Tameer ATM then charges are zero and the 1-link/M-Net 25.00 note upto 90% savings on cash withdraw using ATM.