Have you been in search of the proper method in order to learn about the Telenor 3G / 4G internet settings for android mobile? If yes, then stop searching and read this piece of the article right now! first of all, you are informed that if your android mobile is latest then the company will send auto android setting to you which you just have to install. But in case you are using a china made android mobile or your mobile model is not supporting with Telenor network then you must have to make manual Telenor internet setting for android. Telenor has made itself comes to be the second most famous cellular network in Pakistan that is offering the excellent 3G and 4G LTE services for its customers. Telenor is offering Telenor Internet Packages 2021 so avail these offers. All through the means of this service, the users will be able to hence configure their Android phones by means of the Telenor internet settings for using 3G and 4G LTE.
Telenor 3G / 4G Internet Settings For Android Mobile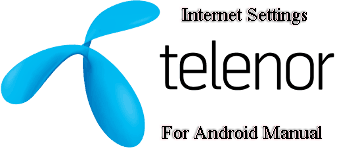 As you will insert the SIM, eventually the internet settings will get downloaded in your Android handset. If in case it does not happen so, then it is considered to try with the only option of manual configuration.
Telenor 4G LTE / 3G Internet Settings for Android – Manual Configuration:
Below is the step by step tutorial related with the internet settings of the Telenor 4G LTE / 3G working on your Android phone:
First of all just go to Settings > Wireless & networks > Mobile networks > Access Point Names.
Now in the next step, you have to tap with the 'Add' button at the top right corner.
As you are done with the second step, you will be inserted with some additional information about the network such as given below:
Name: Telenor Internet (anything you like)
APN: Internet
Username: Telenor
Password: Telenor
APN Type: default,supl
In the last step, you will be leaving out all the fields as blank and hence save up with the settings.
Important Telenor 4G LTE Requirements:
 You can make the use of the Telenor 4G LTE in your handset only if it is being added with the feature of the Telenor 4G Ready SIM. You can also use in the condition if you have the smartphone that is compatible with 4G 850 band. Your smartphone should be having the 4G coverage area.
As in favor of the Telenor customer, there is also the settlement of the online account through which you can eventually get personalized internet settings based on top of your phone model. As you will configure the account you will be going to 'activate' the latest 3G / LTE packages on your phone.
So what are you waiting for? Start your Telenor 3G / 4G Internet Settings For Android Mobile right now! hope you all understand with these instructions for Telenor manual internet settings for android mobile phone or you can also made these settings in your imported phone.