shahid afridi loyalty with Qmobile Brand all details is available on this page read this interesting information. Qmobile company signed Pakistani cricket star and all-rounder shahid Afridi as  a new brand ambassador for his QMobile. The news confirmed by the Afridi bother and the manager Mustaq Afrid. In the past afridi has been associated with various big brands but know a part of QMobile as it brand ambassador he will have nothing to do any other brand in the cell phone industry. QMobile is the one of the best Pakistani cell phone brand and its success rates daily increases. QMobile's chairman and CEO zeeshan Akhtar the key of his success is that they always provides the latest technology with satisfactory client services. Qmobile marking strategy to engage the best stars for their marketing Purpose.
Shahid Afridi Loyalty With Qmobile Brand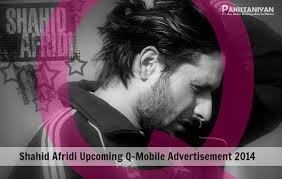 Now they have signed the Nation hero shahid Afridi the number 1 cricket star who have enough fan following and everybody love him and when he entered in the stadium every one stand for looking him. So the Qmobile company made a best decision to signing the super hero shahid khan afridi. Q Mobile is one of the best Mobile company of Pakistan that are provides large range of smart phone with cheap price also with unique feature that is the reason it introduced new trend in Pakistan Mobile Market mostly people who want to use smart phone these days all those people are seleting  Qmobile Mobiles.That is the reason Pakistan and Worldwide actress and Actor like to attach with Qmobile as a brand Ambassadors.