ptcl evo new year tab offer 2014 with internet all details of this offer are available on this page after the reading you can easily able to understand offer activation, charges, term and condition. this is the fastest technology website that can provide you news, updates, world latest innovation, and Pakistan all telecom sector packages, call rates, sms packages with charges, internet related information, top search list by Google if you want get all this and lot of more han keep in touch with this website.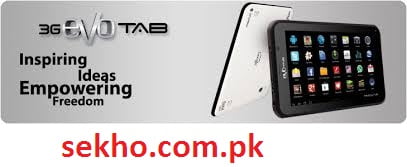 PTCL is the largest telecom company in Pakistan it provide best telecom services Now it introduce ptcl evo new year tab offer 2014 with internet if you get the below information on his page than you will understand Offer details. PTCL to be the leading information and communication and technology service in the region. PTCL achieve vision by some key point that is organization environment that fosters professionalism motivation and quality it give quality services. the company follow core values for achieving the goal like professional integrity, Teamwork, Customer Satisfaction, Loyalty to the company.
Under this promotion all new EVO Tab customers shall be offered 10months of internet usage on purchase of a new EVO Tab. Customer shall be required to pay Rs.14,500 & Get 10months of unlimited* internet usage. The offer is an upgrade for the previous Tab offering which offered 3months of usage at the same price; with the new promotion customer shall get 10 months usage at the same price; thereby getting 7months of usage Absolutely FREE.
| | | | |
| --- | --- | --- | --- |
| Existing price | Validity | New bundle price | New Validity |
| Rs.14,500 | 3months | Rs.14,500 | 10months |
Offer detail in key points:
Limited time promotion to enhance sales for EVO Tab.
7months of additional usage at no additional charges.
Pakistan's fastest growing coverage network covering 90% of the country's population.
Connect to EVDO Rev A speeds of up to 3.1 Mbps with EVO Rev A network.
The only wireless coverage network providing Rev A and Rev B connectivity in the country.
Superior 3G experience with a variety of device and connectivity options
Mobile broadband internet that keeps you connected wherever you go
Seamless EVDO roaming inside the specified coverage areas with auto switch over to lower speeds in the non-EVDO
Term and Condition:
Promotion is valid for new sales only.
Limited time promotion; end dates to be communicated later.
Recharge/continuation options shall be available in both prepaid & postpaid billing.
Package validity shall depend upon the number of days or the volume limit; whichever comes first.