online property tax calculator in Punjab all details are available on this page so keep in touch with this page and read this meaning full information. The Excise and Taxation Department provides services for collection of various taxes and duties efficiently and effectively and suggests ways and means for additional resource mobilization in the Province. Now Punjab Government take a brilliant step for Punjab people they will calculate property tax through online procedure so you have no need to give any bribery to any person just follow the interaction that given on this page after that procedure your property tax will calculate online. That type of service is firstly introduce in Punjab provision, excise and taxation department Urban Unit give services and maintain online property tax calculation system for public. This online service has some unique feature and certain purpose it want to provides best services for Tax Payers. Unfortunately in Pakistan Tax system not working properly but after this service real positive change will show and Pakistan GDP increase day by day.
Procedure:
Click on this  new window are open for you.
Put your Occupier's Information for example type of building use, C.A Sq.ft, Self or Rented,
Give total land Area of property details according to Sq,yds
Give total covered Area information according to Sq.ft
Give also year of construction details
 In case you do not know the Category then that place Automatic option are available on that page all that category divided by three part like residential, Commercial, Location categories. Excise & Taxation Department is the major provincial revenue collecting agency of the Province of Punjab and collects various taxes on behalf of Provincial, Federal and Local Governments. It deal in Motor Vehicle tax, Property Tax, Excise Duty, Professional Tax, Hotel Tax, Entertainment Duty, Education Cess, Luxury Tax on Houses and Farm houses and Cotton fee .
Online Property Tax Calculator In Punjab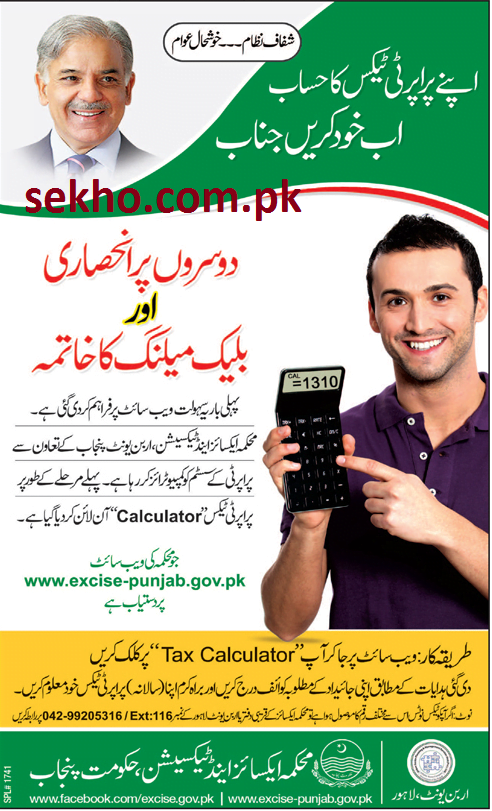 Property Tax is the most important levy administered by the Excise and Taxation Department. It is levied under the Punjab Urban Immovable Property Tax Act, 1958 in urban areas of the Province that have been notified as Rating Areas for the purpose of assessment of the property tax. Under the provisions of the Act, the property tax is levied on the annual value of buildings and land located in the rating area. It is levied at the rate of 20% of annual value if it does not exceed Rs. 20,000/- whereas the tax rate is 25% of the annual value if it exceeds Rs. 20,000/-