Jazz Customers can check Jazz Weekly Call Packages 2019 Haftawar Offer which has introduced by the Jazz. Jazz users can activate Weekly call offer and enjoy free minutes for 7 days. Jazz Haftawar Offer is a complete package in which a user will get free minutes, free SMS and free Internet in just RS 85. Mobilink network is one of the best telecom networks that is providing unlimited call and SMS packages with the strong single strength that is the main reason Jazz network is most popular telecom network in Pakistan. It is considering the No 1 telecommunication company in Pakistan which is providing best services at cheapest rates. This Jazz Weekly Hybrid Package 2019 is best for all type of users who call on a regular basis to Jazz and Warid numbers. Mobilink to Mobilink Call Packages 2019 detail is also available.
Jazz Weekly Call Packages 2019 Haftawar Offer
Jazz has introduced Haftawar offer for its users who want to activate all in one package on daily basis. This is one of the best packages which not only provides to free minutes but also provides you free sms and internet too. Jazz Weekly Call Packages 2019 details are as follow.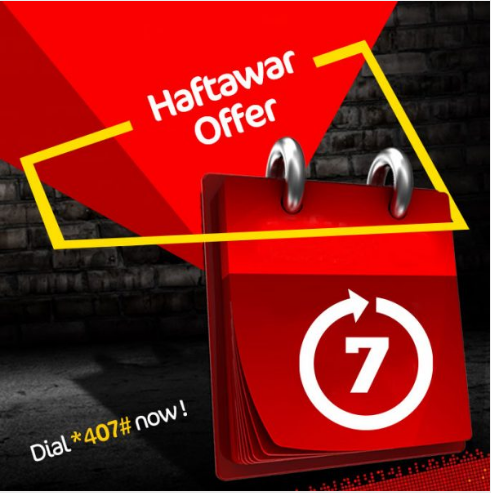 Jazz Weekly Call Package 2019:
BY subscribing to Jazz Weekly Call Package 2019 you will get 1000 Jazz and Warid minutes. Asides this, you will get 1000 SMS which can be used to all networks. 100 MB Internet will also given to you along with this package so activate this package as soon as possible. The package details are as follow.
Subscription Fee
 Rs 85
Incentive
1000 Jazz+Warid Minutes
1000 SMS (any network)
100 MBs Internet (2G & 3G)
Unlimited Facebook
Validity
7  Days
Package
All Packages
Subscription String
*407#
Un-Subscription String
*407*4#
Status String
*407*2#
Information String
*407*3#
Through Jazz weekly call packages 2019 haftawar offer you can also get free unlimited Facebook and 100MBs internet package with call and SMS bundle. After this offer details if you want to get different telecom call and SMS packages then visit this website main home page.
So this is all about Jazz weekly call packages 2019 offer that you can simply activate by dialing *407#. Mobilink haftawar offer 2019 is valid for 7 days and after 7 days you have to renew this package in order to enjoy 1000 minutes, 1000 SMS and 100 MB internet. This is a good offer for the users who have divided their usage of minutes, SMS and MBS during a week. Jazz Haftawar offer 2019 is available to all jazz packages and you can simply dial a simple activation code to enjoy this offer. Furthermore, you can also deactivate this offer at any time by dialing *407*4#.