TecMobilink is the No 1 telecommunication company in Pakistan which is providing the best telecommunication services in all across Pakistan. Mobilink is a customer oriented company which offers different call package which is customer friendly. Now all jazz users can choose from Mobilink Jazz Daily, Weekly, monthly Unlimited Call Package 2018 list. This company has announced a huge list of best call packages for its customers so that they can enjoy noise free unlimited talk without fear of losing balance. They are not only providing online free calls and minutes but also providing off net minutes and off-net packages to its customers. Those users who want to enjoy unlimited calls can subscribe to Mobilink Jazz Monthly unlimited call packages 2018. Those who cannot afford monthly call package can subscribe Mobilink Jazz Weekly unlimited call package 2018 or daily unlimited call package as per their needs. So check details about these packages from this website.
Mobilink Jazz Daily, Weekly, Monthly Unlimited Call Package 2018
Mobilink Jazz Daily Unlimited Call Package 2018:
Mobilink is offering different Mobilink daily unlimited call packages 2018 to its customers. Here is the detail of these packages.
Juzz Super Daily Call Package: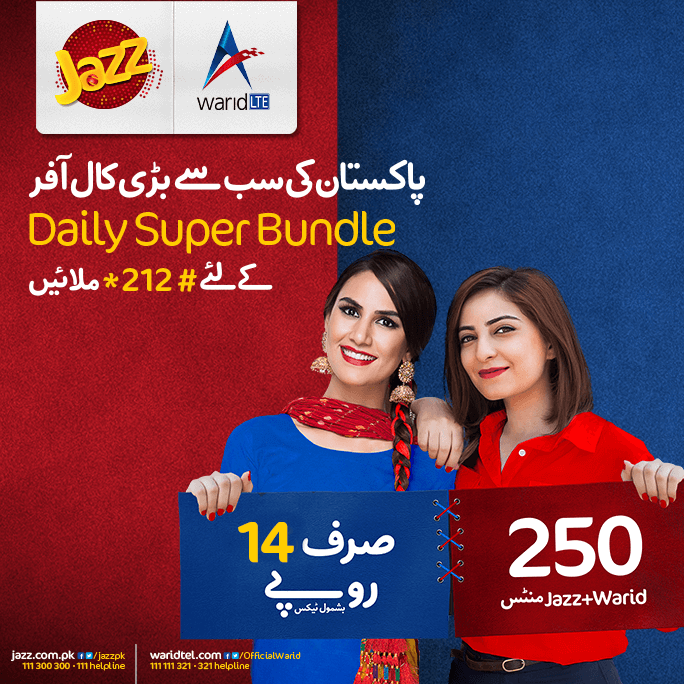 250 On-net minutes
The daily Super bundle can be activated by dialing *212#
Daily Super Bundle unsubscribe code is *212*4#
Remaining minutes can be checked by the *212*2#
Package is Valid for 1 day till 12:00 am
Package price is RS 14
Jazz Weekly Super Bundle:
1500 Jazz+ Warid minutes
1500 MB interment
25 Off net minutes
1500 SMS
Subscription fee of this package is RS 170
Jazz Weekly super duper subscription code is *770#
The package is valid for 7 days
Remaining MBs can be check by *770*2#
Jazz Monthly call package:
Jazz Monthly Super Duper Offer:
This package contains
1500 Jazz and Warid minutes
100 off net minutes
1500 SMS
2000 MB internet
Valid for 30 days
Jazz Monthly super duper offer subscribe code is *706#
Jazz Monthly Super Duper Plus:
5000 MB internet
3000 Jazz and Warid minutes
200 All network sms
3000 SMS to all network
Jazz Monthly super duper plus activation code is *707#
Jazz Monthly Hybrid Offer:
10000 Jazz and Warid minutes
100 Mb Internet
10000 SMS to all networks
Package price is RS 390
The monthly Hybrid bundle can be activated by dialing *430#
It is valid for 30 days
Remaining status can be check by dialing *430*2#
Here are all the details of the packages that Mobilink has introduced for its precious customers and the packages are for its all customers, either old or new. now choose from Mobilink Jazz Daily, Weekly, Monthly Unlimited Call Package 2018 to make unlimited calls.