Apple Inc Company of communication devices invented latest version of devices within the passage of time. The IPhone 6 and 6 plus are Smartphone's which is launched and designed by the Apple INC in the Market. These new invention of Apple are successors than the previous version of iPhone 5C and iPhone 5S. The iPhone 6 has change in Processing speed including Models with larger 4.7 and 5.5 inches display Screen. Here we are differentiate the Iphone 6 with Iphone 6s plus according to the Specification, Characteristics , features and also discuss about the price in Pakistan.
iphone 6 vs iphone 6s Price In Pakistan Specification Release Date Features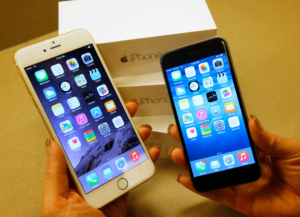 Iphone 6 is the 8th generation of Apple Brand. It is launched in the market 12th months ago on 19th September 2014. The weight of this Brand is 129 g (4.6) and having best software and operating system of IOS 8.0 and current IOS 9.0.2. The processing unit of iphone 6 is 1.4 GHz dual core 64 and the memory of storage device is 1 GB RAM and total storage capacity is 16 or 64 GB. The Rear Camera of this Phone is 8 mp and front camera s 1.2 mp. Price of Iphone 6 in Pakistan in 65, 000 and the colure of this brand space gray, white, Sliver and golden.
iphone 6 vs iphone 6s brief Comparision:
Another latest invention of apple Inc brand in Market Iphone 6s. Which has new version of look and have more speed and Memory due to its specification then the iphone 6 brand? This new version of apple having weight 143 gram which is more than previous model of iphone 6 due to some technology development. The processor which is use in this model is Apple A9 and the storage capacity is 16/64/128 GB. RAM Random Access Memory of this mobile more than the iphone 6 which is 2GB.
Display size of its screen is 4.7 with 16M colors and multitouch icons. Iphone 6S has the ability of 3G and 4G supporter browser of this mobile is HTML5. The latest version of Iphone 6s has 12MP Back Camera and 5MP front which are better than the Iphone 6. This new bran having five colures which are space gray, Silver, Gold and Rose Gold. The price of iphone 6S in Pakistan 90,000/- and in USD 916 dollars.
Review: According to the specification and features of both models of Apple INC Brand the Iphone 6s is successor than the Iphone 6. Because it has more storage capacity also Camera result and resolution of back and front greater than the Iphone 6 so therefore it is expensive than previous version.