Here I am going to present a very use full method for how to view saved Wifi password on android /iPhone /Windows mobiles and PCs. It doesn't looks so tricky when we are connected with wifi with our handset, but if in case someone who is not connected to that wifi but he or she asked you for the password then you can't tell him/ her the password of that wifi you are connected with. It is because android/ IOS or windows mobiles doesn't allow a user to view saved wifi password on mobile. So in that case you have to follow this page because here I have wrote all these three ways through which you can view saved wifi password on android/ iPhone/ Windows mobile. Although it is not a big issue is you are connected with your PC or laptop because in that matter you just have to click on the signals navigation on the right bottom corner of your desktop and there you will see a pop up list for available and connected wife signals and there you have to right click and then show the password and your password is showed there but in case you are on mobile or tablet then this option is not available, So follow the following process for view saved wifi password on mobile phone.
How To View Saved Wifi Password On Android /Iphone /Windows
How to View Saved Wifi Password On Android?
Well there are several fake apps are available on play store that claims for viewing the saved wifi password but I recommend you to use this manual process to access your password. So if you are using an android mobile phone and you have forgotten a wifi password on which your mobile is connected then you just have to follow the following procedure and you will get the password of that wifi network your mobile is currently connected with…
Open play store and search for "ES File Explorer"
After this just download and install this app in mobile
Tap on the settings soft key on the top left corner and select "edit system files on Android"
There you will see a folder named as "Data"
When you tap on data you will see a file named as "WPA_Supplicant.conf"
In this file you will see each SSID and their passwords in front of it
Now you can write down that psk password and that is the password your device is currently connected with a wifi
For more clarity see the images below of ES file Explorer
Note: Your Android Phone Should Be Rooted Because Es File Explorer Doesn't Allow Access To Rooted File Edit Box Until Your Device Is Rooted…!!!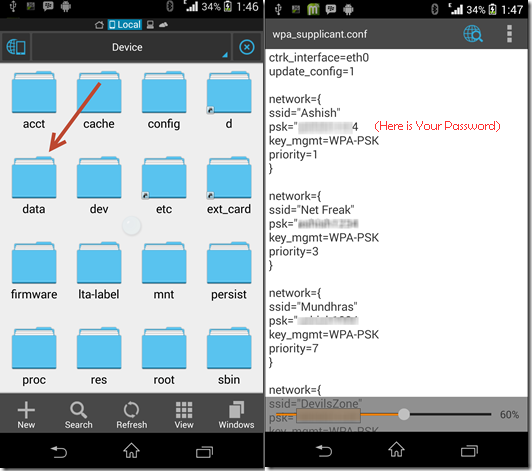 How to View Saved Password On iPhone/ IOS?
If you are using an IOS or iPhone and want to show your connected wifi password then you are on easier edge then an Android. So just follow the following easy steps on your jailbroken device…
Open Cydia and search for nifty tweak
Download and install NetworkList from Cydia
Tap on Wifi settings
Select network Password
In case you are using IOS 7 this option is named as "Known Networks"
Tap on it and you will see an option to show saved wifi password
See the images below for more clarity
Note: Your IOS should be jailbroken, otherwise Networklist Tweak will not installed in your device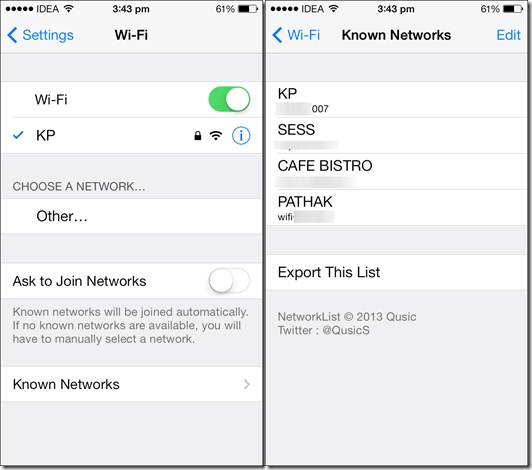 How to View Saved password on Windows?
If you are using a windows mobile then it is easier the most then Android and IOS. It is because you have no need to download any third party app or software in your device or PC. So you just have to go to Settings >
Network Settings>
 Wireless Network >
 Tap and hold on wireless network name and choose view connection properties >
 Select show characters and that's is your saved password on your windows mobile.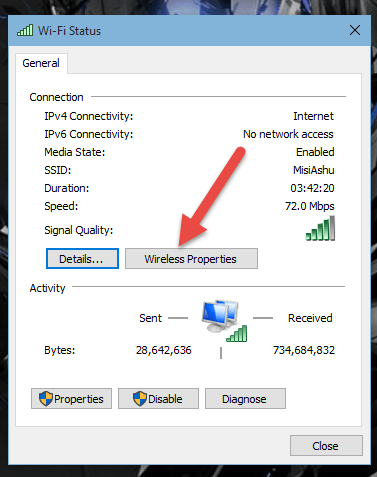 Hence; these are the three easier ways for your query about how to view saved wifi password on android /iphone /windows. Hope now you have reached to your password and have connected to other device on a wifi password. Through these procedures you can view hidden characters of wifi your mobile is currently connected with.