Now you will learn about how to use Peachtree accounting software in Urdu. This is a software which is designed for holding the accounting department of any company, firm and or school. Some companies prepare their own accounts programs but mostly not only in Pakistan but all around world peoples use to relay on this software to holds the accounts and finance related activities. Since its launch in 1978 in America and Canada it has been reached in every corner of the world where accounts relating activities are being performed. There are various reasons for it where the first reason it is secure by password and custom designable for your work nature and routine as well as the new versions of Peachtree contains predesigned themes and database that allows its users to manage according to their own needs and requirements. Well now a days the Peachtree has been modified with lot of latest techniques and tips as well as its name as also been changed simultaneously to its new features and its new name is Saga 50 Accounting. So here on this page I am telling you the how to download and install Peachtree software online in computer and how to edit and customize it with our needs and requirements.
How To Use Peachtree Accounting Software In Urdu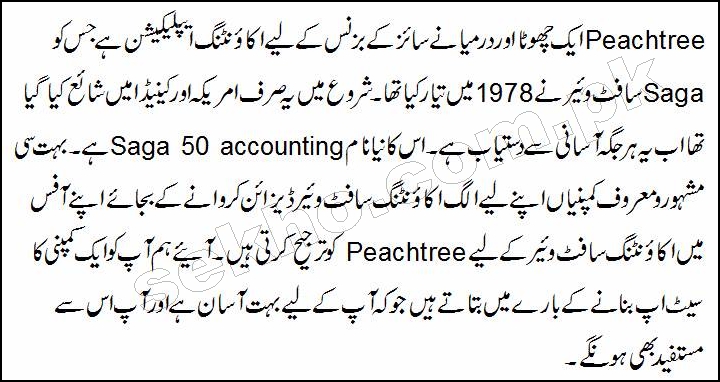 Usage of Peachtree Accounting
Well the base of Peachtree page starts with its six basic options that enquired on each start in each of its version and the options are as below
Create an existing company
Create a new company
Explore a sample company
Take a guide tour of Peachtree
One wide Plus Company or Convert from a QuickBooks
Exit
The usage and purpose of these 6 basic options of Peachtree are as below written in Urdu and you can click on the image  below to make it bigger so that you can read it easily and can understand the usage of each and every of its option.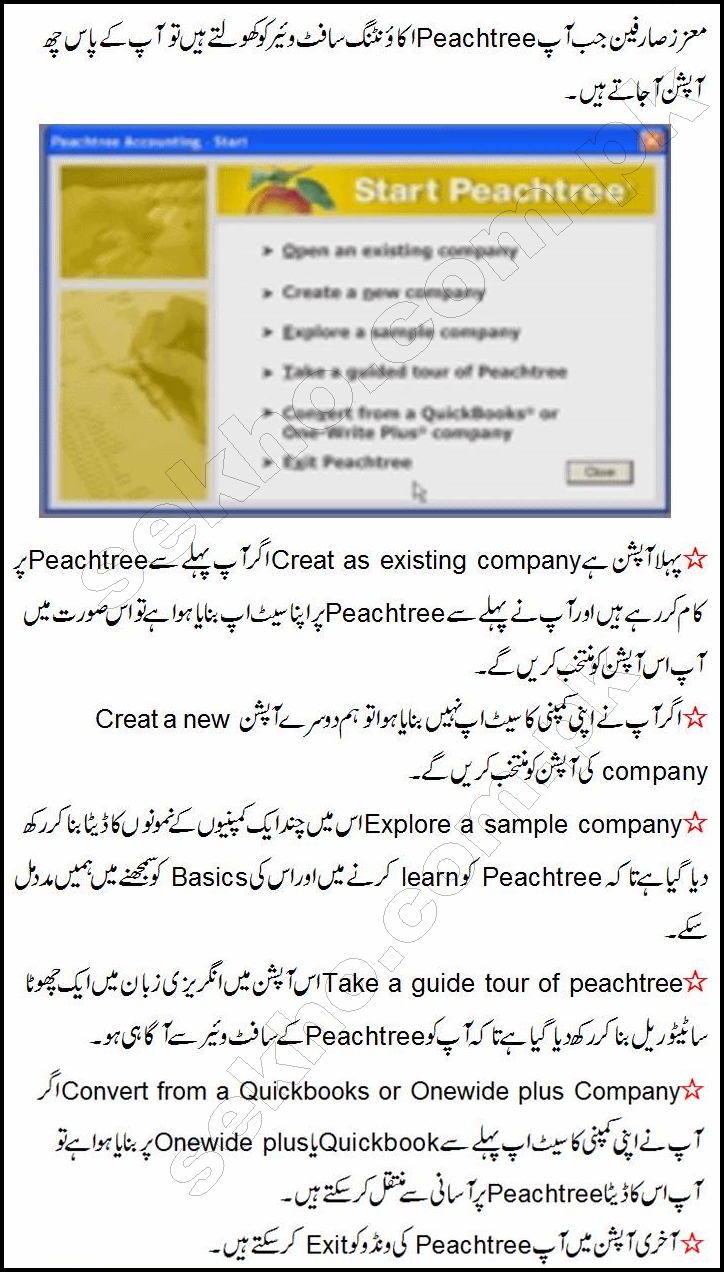 How to Make a New Data Base For A New Company
Well it's a new query about making a new data base or your own customized theme according to your need and requirements and you can read the process from the following image where you will get the procedure about how to use Peachtree accounting software in Urdu.

Yet all procedure for how to use Peachtree accounting software in Urdu and I am assure you are all well acquainted with the usage of this accounts software but in case you have any confusion relating to this post you can ask us via comment box below of this passage and we will reply you as soon as possible.