How to recover / Reset android phone pattern lock. There are two ways of unlocking your android phone. Both the steps are given below in detail. Check them out and unlock your Android cell phone easily:
First Step:
When you phone get locked use the two ways to open up the code. I know two ways of opening the lock of android cell phones. First ways is to use your Google account to unlock your android cell phone. So now I will tell you that how can you unlock you android phone with the help of your Google account. :
When you try different patterns to unlock you code of android phone and unable to unlock your android phone in five attempts. After then a message appears and shows two buttons first one is n "next" and second is "try again".
Now you have to click on "next" button and you will again see the two options for unlocking your android phone. One is answer the security question and the second option is to provide Google account details.
Most of people don't set a security question but we should have set this to get rid of this problem. But if you set it then you can open it by giving answer the question and you can unlock your android phone. Otherwise check the Google account option and click "next".
If you have your Google account now provide your Google account username and password attached with your device and click on "sign in".
After giving the Google account user name and password you will be able to choose new pattern and now you can unlock with this pattern.
How To Recover / Reset Android Phone Pattern Lock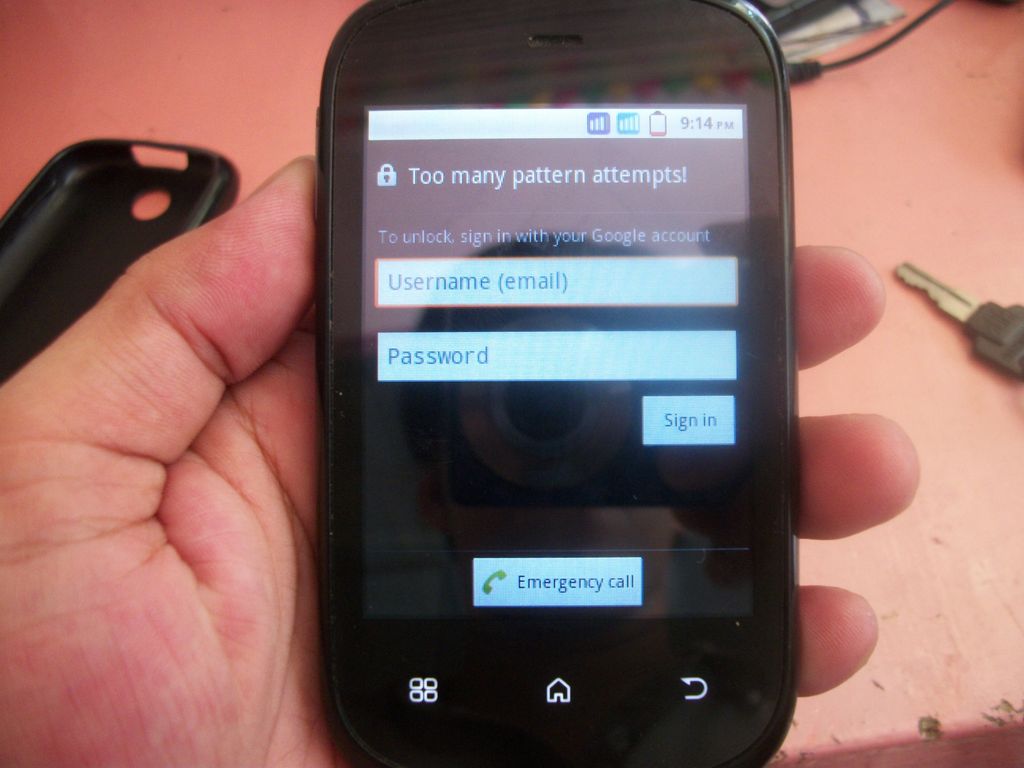 Second Step: 
2. If you also forget Google account details then what will you do, so don't you worry here we have provided you the solution for this matter also and that solution is factory reset your android phone. Leets have a look at this solution to unlock the android cell phone.
First step of in this way to unlock the android cell phone is to turn off your android phone.
After that press Volume up, power and home button at the same time for unlocking the android phone and wait until your device get starts.
When your android cell phone will get on and you see logo screen so then release the power button and keep pressed the other two buttons.
After that your screen will show you android system recovery and there is a list on the screen. Now you have to use Volume up or down keys to select option from the list. And you should select factory reset option and then press power button to let the action begin and you android phone to be unlocked.
After that it will ask you for confirmation then you have to select ''Yes".
After all the steps and factory reset completes, again it will appear you android system recovery screen. Now you have to  select reboot option and after restart it will not ask you for pattern. So that is the second way of you unlocking your android cell phone