As we are all well familiar with the fame and acclaim of Facebook for online socializing, sharing and promoting. Yes of course! Facebook or FB is not just limited for sharing of photos and videos but these days it is also been using for promoting the business though FB page. This great strategy about business promotion or advertising has become one of the most useful source which can be adopt by any person without any investment. So if you also want to join this way of publishing then you will learn how to create Facebook page in Urdu from this page. Moreover once you have created an FB page you should also be familiar that how to manage and update this page. Now you can upload your productions, promotions and latest updates to keep your users up-to-date. You can add people on your page by sending them invitation request online through your FB page. How many peoples will be added on your page they will see new stuff updated by you and your promotion will be raised correspondingly. So if you are interested then keep on reading to get method of how to make FB page.
How To Create Facebook Page In Urdu
Categories For a Facebook Page
There are six different categories for which you can create your FB page according to your needs and deeds….
Local Business or Place
Artist, Brand or Public Figure
Company, Organization or Institution
Entertainment
Brand or product
Cause or Community
Now read the following procedure about how to create Facebook page in Urdu.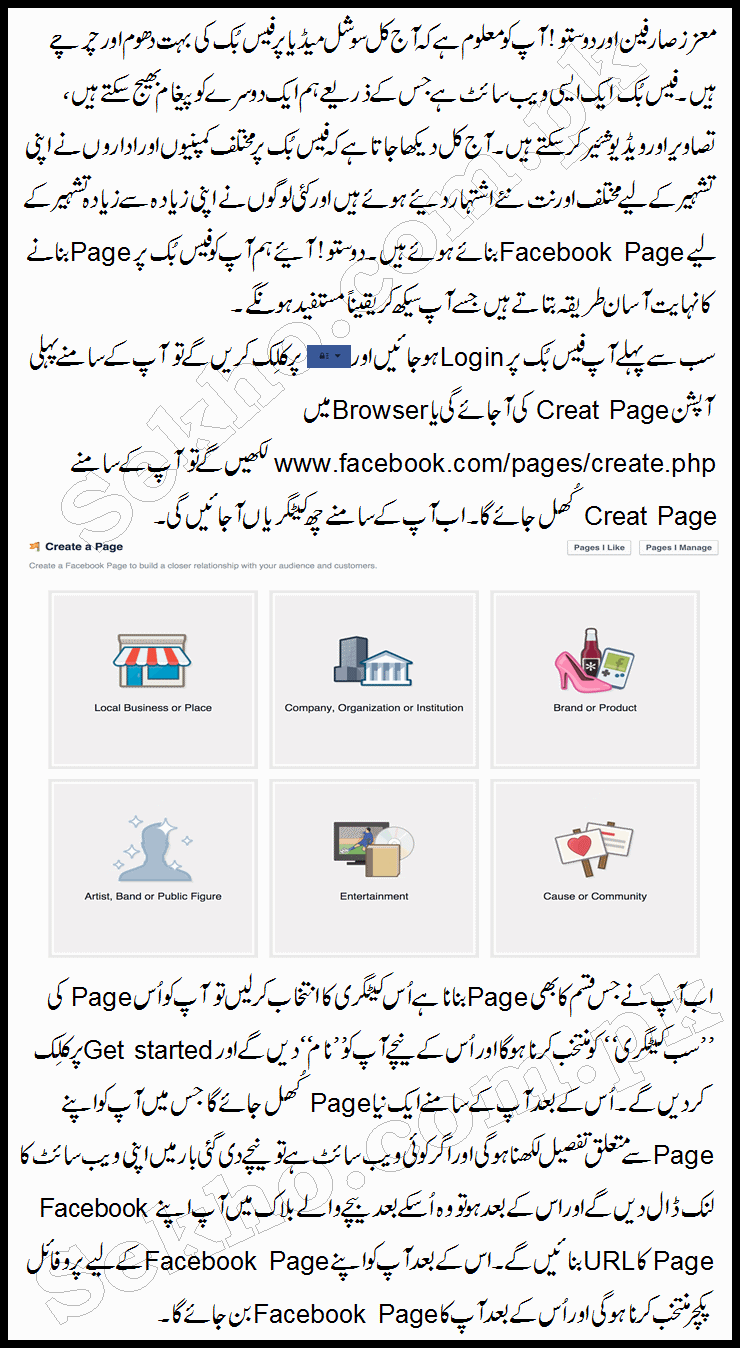 So this is all about how to make a Facebook page without any charges while sitting at your place. Above all if you is now an owner of a business, company, organization or brand but you have a special stuff which you can share with peoples for your own social media fame you can also make up your page in the cause or community section because there you can upload any type of your data including photos, videos or any written material. At the end I would like to suggest you to keep away from any miss use because the authority has complete access to block a page at any time.