These days the trend of having a smart phone has been enlarged. Different peoples like different mobile phone brands like Samsung, Nokia, HTC, Huawie and Q mobile. There are various fake mobile companies which are producing first copy or high class replica that looks like original one from its body, specifications and other appearances. A common customer or sometimes even an expert one cannot judge for either this mobile phone is original or refurbished. Refurbished is actually a term using in mobile phones which are not original. In market the word is used chine phone which means the mobile phone is not original but it looks like the original one. So here I will ask you that whether you like to have a copy mobile in the original price? Of course not! So what we should do not? Don't worry in this matter because here I am telling you the complete procedure about how to check your Samsung phone is refurbished or original. The reason for targeting the Samsung mobile phones is because this brand is more use to and refurbished issues are coming in this brand then other brands. But if you have a mobile other than Samsung you can also use this process to check you're mobile.
How To Check Your Samsung Phone Is Refurbished Or Original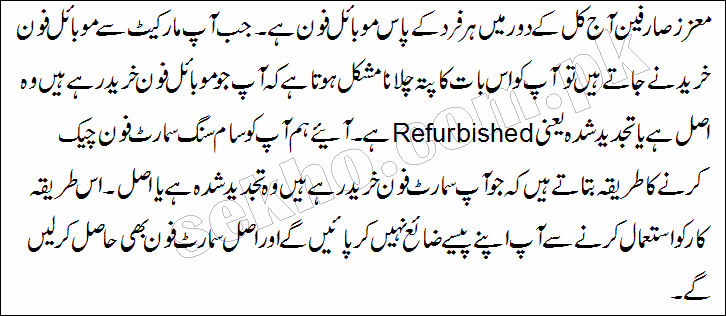 Process
There are two procedures through which you can check if your mobile is replica/ copy or original.
Process No. 1 (Through Dialing Code)
Dial ##786# or *#*#786#*#*
RTN screen will automatically open in front of your screen
Scroll down the screen and check the status at the end of the file
If the status is "Yes" means your phone is refurbished (copy)
If the status is "No" means your phone is original
Process No. 2 (Through APP)
Open PlayStore of Your Mobile
In the search bar write "phone info"
Download and install this app in your Samsung mobile
When you open this app the information about your Samsung mobile will be appeared
Tap on the top left corner and tap on the "Refurbished check" option
If your mobile is refurbished the status will be "yes" means your mobile is a copy
If your mobile is original and status will be "No" means your mobile is non-furbished

Recommended Note: –
Do these any of the above written process before leaving the shop where you buy your mobile. Once you have paid you should un-box your mobile and after on it just check if for either it is furbished or not. If you're mobile is refurbished then claim it immediately so that you can get the original one or your money could be refund to you…
It is also recommend you that always buy a mobile from an authorized dealer shop instead of buying from any local mobile shop
So this is all about how to check your Samsung phone is refurbished or original. I can hope now this post proves to be very use full and beneficiary for you about to use an original mobile and to save your money. Further if you have any question relating to this post you can ask me via comment section below, our team will reply you as soon as possible.