Warid is introducing an amazing offer through which one can use two numbers on single Sim and this offer is called as Warid Double Number offer and here I am describing about how to activate / deactivate warid double number offer. So before going towards the procedure I would like to share some use full and interesting features of this offer. The one of the first feature is you don't have to buy two or more mobiles or sim to use an official number and a family number because you can active one number at any time and other will stay off while you can also active both numbers at a same time also. The second important feature is that the receiver will see a full number of your same network which is Warid on his screen. The third and the last most interesting feature is you can fix a schedule for auto on/ off a specific number from both of your numbers. There are various other benefits of Warid double number offer which are according to each user's usage so keep on reading this post now to get details about how to active / deactivate Warid double number offer.
How To Activate / Deactivate Warid Double Number Offer

How to Subscribe or Activate
The procedure is very simple and easy as you just have to send a message "SMS Sub To 3311" and system will ask some queries and will randomly select a secondary number for you and that number will be intimated you through a message on your primary number. You have to save this number somewhere you are can learn this number so that you can stay safe from any misconducting. The reason is that Warid will allow a double number on a primary number at once. It means if you have lost or forget your secondary number you can't subscribe this number second time until you deactivate the first subscribed number. Keep on reading this post to get further about how to block a specific number for call or SMS.
How to Make a Call from Double Number
If you want to make a call from your double or secondary number you just have to dial 33 before dialing a number such as if you want to make a call on 03210000000 you have to dial 3303210000000.
Charges
3300 IVR will be charged Rs.0.50+tax/minute
SMS to 3300 will be charged Rs.0.50+ tax
Subscription charges – Rs.7.00+tax/week (for prepaid customers)
Subscription charges – Rs.28.00+tax/month (for postpaid customers)
Note: – you will send SMS to 3311 for blocking all incoming calls and SMS / you will send SMS to 3300 for blocking and un-blocking a specified number as shown in the following table.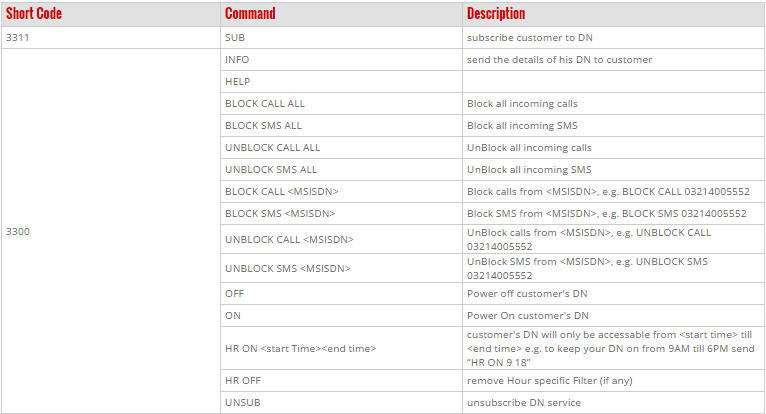 Terms and Conditions
Service charges for subscribing a double number is same as for WHT and Service Charges according to you package planes
No one is allowed to select a number on his own
Double number call will be charged Rs. 1. 60 + tax / SMS
Double Number SMS will charge Rs. 0.50 + tax per SMS
For getting any further detail about any further information or update about how to activate / deactivate Warid double number offer you can visit the Warid's officials website for it or you can also send your comment to us in the following comment box below of this passage.