Those who are going to purchase laptop or computers from Galaxy computers can check Galaxy Computers Karachi Website, Contact Phone Number, Address. Galaxy computers are one of the best online+offline stores for branded laptops, tablets, and computer-related accessories. Karachi is one of the Largest City of Pakistan and there are thousands of computer shops are present. There are also many best computer shops are also present in this city which is providing the best computers and laptops on cheap rates. We came along with the best Computer markets in Karachi Such as Regal, Naz Plaza and Techno city which is also known as Galaxy Techno Computers. it is one of the huge computer markets which was build up on the present building located near to Bellasis St and II Chundigar Road in the year of 1991. That is a large market where you can sale and purchase computers, it is having a number of shops in it so that customer can buy Laptops, Computers , LCD's and Computer Accessories such as Ram, Hard Drive, Mother Board, GPA Cards and much more from  this shop in Karachi.
Galaxy Computers Karachi Website, Contact Phone Number, Address
As Karachi is Pakistan's center of banking, industry, economic activity, and trade and is home to Pakistan's biggest corporations which includes textiles, shipping, automotive industry, entertainment, the arts, fashion, advertising, publishing, software development, and medical research and much more beside all this. Galaxy Computers Karachi is also one of the biggest businesses present here from where you can purchase any laptop or computer. The detail about its website, address and contact number is as follow.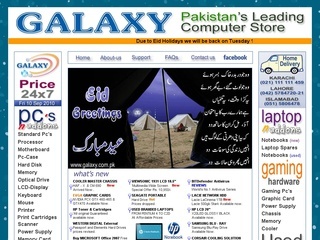 Galaxy Computers Karachi Address: 
Address: Uni Center, II Chundrigar Rd, Fourth Floor, Karachi
Galaxy Computers Karachi Phone Number: 021- 111111459
Galaxy Computers Lahore Address:
Address: 1st floor, Hafeez center, Lahore
Phone Number: 042-35784720-1
Galaxy Computers Islamabad Rawalpindi Address:
Address: Dubai Plaza, 6th Road Chowk, Basement, Rawalpindi
Phone No. 051-4413275
Galaxy Computers Karachi Website:
The website of Galaxy Computer is http://www.galaxy.com.pk/ and you can visit this site to get more latest computer , laptops and Mobiles
It is very famous shop of the Karachi which also have branches in Lahore and Islamabad. We have given you all the address of this shop here. Galaxy Computers Karachi Contact Phone Number is also available here for your ease, so that you can call them and ask the computer or Laptop price on phone. if You want to visit this shop we have also given you Galaxy Computers Karachi Address so that you can go to shop and get what every you want to get. So if you ever need to get any type of computer accessories must visit that shop and get all what you want.