The modern era is the world of Information & technology. It is a cyber-world where each and every individual is using cyber items.  Whether is laptop, notebook, tablet or netbook, are all mobile computers.It is now an integral part of life. Technology companies has come up with various gadgets to entertain their customers. Although these gadgets are used for almost similar purpose with, similar features but there are some differences among them. Let's have the detailed look on the difference between these gadgets.
Difference Between Laptop and Notebook
Laptops and notebooks are mobile computers. Mostly the netbook and laptop are used interchangeably for the same gadget that is laptop but still there a difference.Day by day technology is offering better, slimmer and thinner in designs of portable computers.  While a consumer goes for shopping, he is concerned about the Difference Between Laptop and Notebook. The difference between the two a very fine line today. Its only about what the manufacture wants to name its product. There is only slight difference in their design and weight.
Size: The difference between the sizes of two of them is laptop is smaller enough to fit in the laptop of an individual. Notebook is of thinner and lighter in size weighing less than six pounds, which get fits into briefcase. It comprises of the technologies that is flat panel with non-bulky display screen.
Price: Another difference between these two is the price. Adjusting same CPU's in as maller system is little expensive. Laptop is being a smaller version of desktop system so it is expensive than desktop system but cheaper than notebook.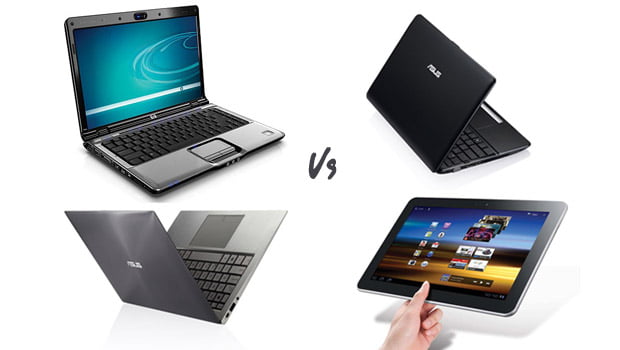 Difference Between Netbook and Tablet
All these gadgets are used to capture the need of the customers who want to carry their work with them. Netbooks are exactly the same as laptops in the looks but is just smaller.Due to its smaller size it is less powerful. We can say netbooks are scaled down version of notebooks whereas tablets are quite different from laptops, notebooks and netbooks. Netbooks are good option as a middle ground between laptop and tablets and here is the Difference Between Netbook and Tablet
Keypad: Another difference between these two is that netbooks has keypad and touchpad as compare to touch screen.
Switch off/on:One more different feature among netbook and tablet is the never turned off. It is always on the got to start. Whereas netbook is switched off and take about minute or two to boot up again.
Applications:Tablets are entertained by applications to run but netbooks has programs same as laptop or notebook.
Screen/ Display: In netbook, the size of the screen is 10 inch with 1024×600-pixel display which is very small for windows.
Operating system: Operating system of netbook is mostly run on Microsoft windows like vista, XP or 7 whereas tablet has customized operating system designed according to the touch screen system.
The difference is much clear between Laptop and Notebook and Netbook and Tablet the four gadgets. All these are used for same purpose but their features are designed keeping in mind the various needs and demands of the consumers.