Zong brings a new Daily and Monthly Unlimited Internet packages for its valued customer. The subscriber can search and download from the Internet news, videos, movies and sports whatever you want. Nobody can stop you from downloading because GPRS is free all subscribers that have prepaid network in Pakistan. How the subscriber access daily and monthly unlimited internet packages and its charges detail is given on this page.
That Zong subscriber who wants to keep in touch with his friends and beloved families can get daily and monthly Internet value packages. Its charges are very cheap and downloading speed is unlimited for prepaid subscribers.
Zong Unlimited Internet Packages Daily and Monthly and its Activation/Deactivation Charges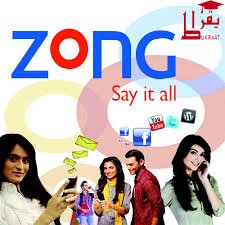 How to subscribe Daily and Monthly Unlimited Zong Packages
For daily package Subscriber dial *909# or can send SMS ESUB dailyunlimited to 906
For monthly package Subscriber sends SMS SUB UNLIMITED to 905
How to unsubscribe Daily and Monthly Unlimited Zong Packages
For daily package send SMS unsub dailyunlimited to 909 (Rs. 5 charged)
For monthly package Call to 310
Activation Charges
Rs. 10 per day
Rs.  999 per month
Note
To check remaining data balance dial *102#
After consumption of free 2 GB every additional MB will be charged at default package rate.