Warid Telecom introduce a new service for valued customers across Pakistan which is 'Intro Me'. This is the best service for the existing and new subscribers. Warid always take care about its subscribers. This is amazing and innovative service by the Warid Network. If the subscriber dial a number to his friends or families then they will receive a quick intro message on the screen that shows who is calling. Prepaid and postpaid subscriber can avail this Intro Me service.
Warid Introduce 'Intro Me' Service for the Users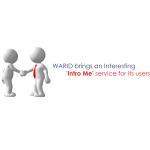 The subscriber do not need to worry about the unknown numbers because Warid Network offer a wonderful service through which the subscriber can get a Intro message with call and you will be able to know about caller.
How to subscribe and unsubscribe 'Intro Me' service
Warid subscriber just dial *272# or go to write message and type SUB and send to 7272
Go to write message and type UNSUB and send to 7272
How to send Intro SMS to receiver
When the subscriber dials any number then just adds prefix 77 with desire number.
For example: – subscriber wants to dial 03210123456 the before dialing this number just add 77 like as 7703210123456.