Uber rickshaw service in Pakistan with cheap rates has been inaugurated from Lahore in October, 2016. Now one can avail UberAUTO or UberRickshaw at anywhere in Lahore by just taping on UberAuto icon in Uber app. This is the low-priced transportation to travel inside Lahore than any other transport services like Careem or Albyrak. Uber was launched 8 months ago in Lahore and achieve a lot of popularity by public and peoples are preferring to ride via Uber then a local ride. So now the Uber think to step forward to bring ease in a ride by launching UberAuto. All the rickshaw drivers can register their rickshaws with Uber and can drive on their own schedule and can earn a handsome amount. Above all the plus point is that, its fare rates are fixed that will keep you safe from negotiations and you can call a rickshaw at your own place through your mobile app by just taping on requires for a trip.
Uber Rickshaw Service In Pakistan With Cheap Rates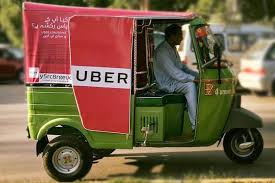 Uber Rickshaw Rates
Uber has prepared the fares with a base fare of Rs. 45/- and Rs. 4/- will be charges for one Kilometer or Rs. 1/- per minute. It means if you travel 10 KM your basic fare will be Rs. 40 and by adding base rate your total fare will be Rs. 85. Here are some estimated rates for Uber Rickshaw Service In Pakistan
From Muslim Town to Kalma Chowk Via Flayover: 4 KM and fare is 45 + 16 = Rs. 61 Rupees
From Muslim Town to doctor hospital via canal bank road: 6. 7 KM and fare is 45 + 27 = Rs. 72 Rupees
So you can estimate your fare by entering your pickup location and destination like viewing in the following image. You can click on the image below to get a fare estimate with UberAuto and UberGo.
How to Call a Uber Rickshaw
So if you want to ride or travel with Uber rickshaw service in Pakistan with cheap rates, then signup for ride and get your Uber account. Download the Uber app in your android or iPhone and just login with your account. You will see an icon for UberAuto. You can request for an Uber trip and set up your pickup location and destination and Uber Auto will pick you up from intimated location.
So is all about Uber rickshaw fares in Lahore Pakistan with base rate, fare per kilo meter and fare per minute. It is really a cheap rates public transport here yet available in Lahore for you.