Pakistan Mobile Communications Limited, better known as Mobilink GSM, is a telecommunication service provider in Pakistan. The company is Pakistan's leading cellular operator with a subscriber base of 35 M.
Mobilink is always favorite of user because its services are very cheap and it always trying to take their services to the advance level where customer fells comfortable. Mobilink developed the telecommunication system and very careful about its customers. Mobilink produce many offers such as Hajj offer. It shows that Mobilink introduce its services related to occasion. Nowadays in Pakistan, Audition is being for 'Pakistan Idol' and Mobilink offering big an opportunity as mobile based audition for Pakistan Idol. For getting this offer Pakistanis can participate as a millions in largest reality show.
How you can participate in Pakistan Idol reality show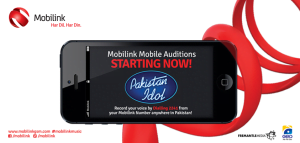 Every Pakistani cannot go for audition but can record your voice after just dialing 2241 through mobile. This service can use whose have mobilink number. Your voice recording limitation is only 60 seconds.
This service is very helpful for whose have no time and resources for going audition. This is great opportunity to send your voice. Mobilnk always think about you.