USEFP Teaching Excellence and Achievement TEA Program 2014 information are available here on our site. It is an precious opportunity for the teachers to improve their skill and go abroad for getting this training for six months.The teaching excellence and achievement program for Pakistan will give Pakistani teachers from government schools with unique and precious opportunities to be experts in their subject areas and to enhance their teaching skills.This program is developed  to enhance teachers' expertise in their teaching discipline and let them know the new ways of teaching. And also a chance for them in for learning new methodologies, lesson planning, and the use of technology in teaching for giving their best to children and making them the best students of the world. and to improve the knowledge of  Pakistani teachers and their students.  A group of teachers will go to the U.S. for eight weeks of internship in academic settings.
Secondary school teachers can get a chance to improve their teaching skills and increase their knowledge about their subject they are teaching . U.S Department of States is providing all the findings for USEFP teaching excellence and achievement program. Only secondary school teachers of English are eligible to apply for this program. It's a six month  program in United States of America for the development of professional skills of English teachers of government schools.
USEFP Teaching Excellence And Achievement TEA Program 2014
Eligibility Criteria:
Government school teachers, teaching class 8-10
Pakistani citizens with permanent residence in Pakistan
Minimum 5 years of teaching experience
Hold at least bachelor's degree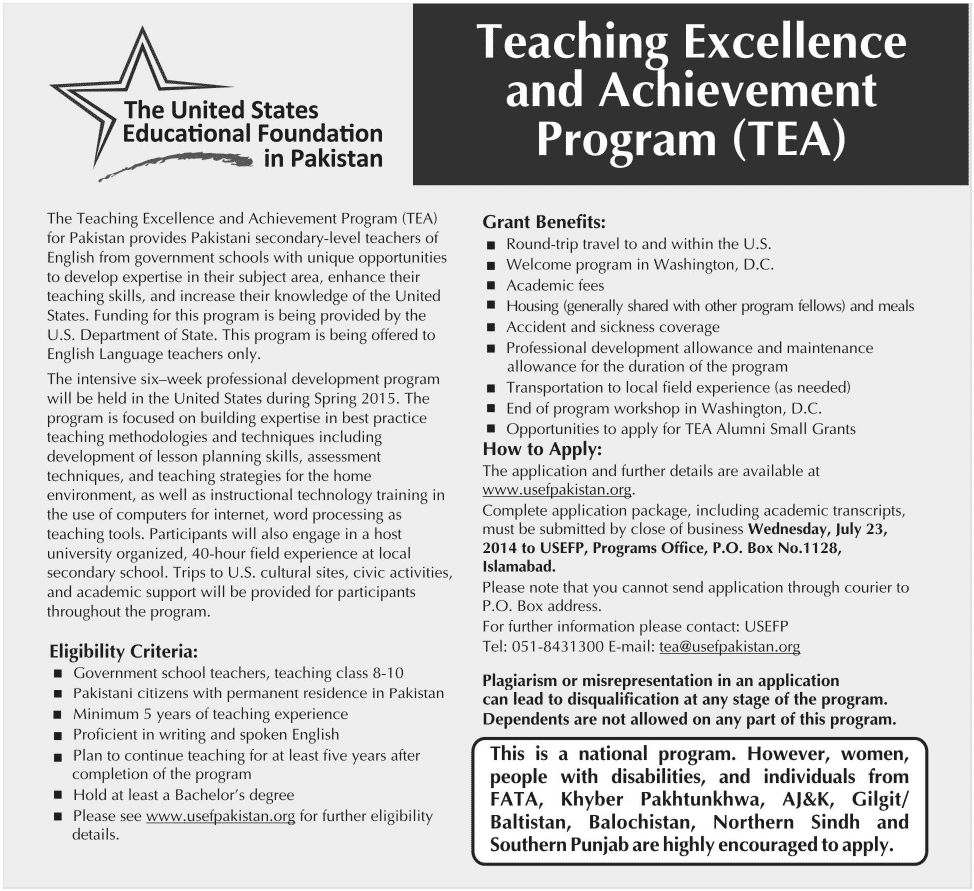 How to Apply:
The application and further details are avaible at www.usefpakistan.org.com
Complete application package including academic transcript, must be submitted by close of business Wednesday, July 23, 2014 to USEFP, Programs Office, P.O box NO.1128, Islamabad.