Telenore is the reputed company and it is well acclaimed in the 11 markets of Asia, Europe and also in Pakistan.In Pakistan it is number one network because it is giving you the best call, SMS, and internet bundles here.  From this page you can get all the information about Telenor along with Telenor Web Self Care Service in Pakistan as    Telenor started our as a public company in the year of 1855 and it is 100% owned by the Telenore group, which is an international provider of voice,data, content and mobile communication services in the 13 markets across Europe and Asia and additionally dealing with 17 markets through ownership in VimpelCOm Ltd. The intro given here can tell you that how Telenor is working.The Telenore Web self service is an initiative taken to made the customer relationship management and the employees management also. The main purpose of this service is to decrease the burden of CRO, so that customer can get information by their own selves. The benefits of Telenor Web Self Care Service  are also mentioned next in this post. There are various benefits of Telenore Web Self Service, some of them and telenor web self service sign in Pakistan is mentioned below:
Telenor Web Self Care Service in Pakistan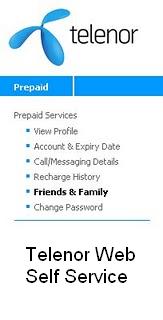 Telenore Web Self Service Benefits:
This service provides the capacity to control the service for the mobile savvy generation.
The Telenor web self services has made a service page for the customers. to use this service page you must have to get registered
With the help of this service your so many problems are going to be loved, such as you can pay online bills by using this offer.
Your all detailed information regarding to your phone number such as call summaries and billing information is available on that page.
All the call history and call records for the prepaid and post paid subscribers is also available.
Those who are in search of new offers and packages can also get new tariffs from there, it enables them to boost up the customers satisfaction level.