State Bank of Pakistan SBP will now be issuing new currency notes on this Eid 2017. This initiative is a joint working of SBP and Pakistan Bank Association. This service will be given in almost 1000 e-branches across 120 cities of Pakistan. This is a well designed systematic way to get new fresh cash on the eid occasion. SCP has launched an SMS service where you have to send an sms to a specified number along with your nearest and qualified for this State bank of Pakistan SBP new currency notes for eid branches. when you send your ID card number space branch code,you will receive a reply from the bank that will confirm you about the time and date when you can get your cash. If you late from that time or date you are rejected. Moreover it is also informed you that you can withdraw maximum Rs. 18,000/- by one one copies like you can obtain 3 copies Rs. 10/- copy, one copy of Rs. 20, one copy of Rs.50 and one copy of Rs.100. keep on reading this post to get further details about how to get new currency notes from bank under state bank new notes policy 2017.
How to Get New Currency Notes on This Eid 2017?
To avail this service, you should send your CNIC number. You should also know the e-branch ID of your bank. Just get the e- branch ID of that back which is nearest to you. Take your mobile phone and then start typing CNIC number, space and then your e-branch code.
after writing your CNIC space branch code  send this message to 8877. Make sure that Rs 2 plus tax will be charged from you upon sending this message.
As soon as you will send this SMS, then customers will right away be getting their e-branch address along with the redemption code. On that code, the validity date will also be mentioned. When the validity date will be expired, then this service will not be availed by you. Right withing the two working days of getting that redemption code, you have to use this service.
How Much New Currency Notes We Can Get On This Eid 2017?
This quota to get the new currency notes has been made fixed by the SBP and Pakistan ban association. You can get three packets of Rs. 10. Then you can have one packet of Rs. 20. If Rs.50 packet will be available then you can have its one packet. If Rs.100 packet will be available then you can have its one packet. but the whole of sum of all these packets is Rs.18, 000/-.
State Bank Of Pakistan SBP New Currency Notes For Eid Branches List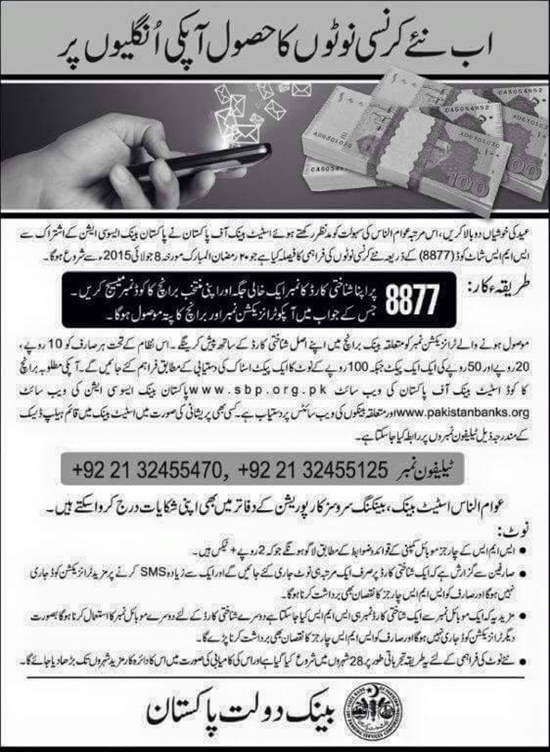 Helpline Made By SBP and BSC Related To New Currency Notes
You can contact on this help line number: 111-008-877. If you are a resident of Punjab province then before this number, you have to add 042. If you are a resident of Sindh and Balochistan province then before this number, you have to add 051. If you are a resident of KPK and Azad Kashmir province then before this number, you have to add 042.
Get these new currency notes and enjoy your Eid 2017 more!