If you want to Search Address By PTCL Number through the online directories that are available on different websites than all of your struggle goes in vein. There is a time when these online directories provide the client address when you enter the PTCL Number of that person but this is the time when PTCL is totally a public sector organization but from the day when it is privatize the first step that is taken by the management is to block all these directories and stop providing the address and other details of the customer through just PTCL Number. Well if you found any directory that has the option Search Address By PTCL Number then keep one thing in your mind that this is all fake and will not be able to provide you the address as if you do not believe on what you are reading right now then you can experience it through going to all these directories but after wasting a lot of your time you will realize the authenticity of what is written here. So one thing is for sure that nobody can check the Address or Name or any other detail through entering just PTCL Number but in case it is necessary to find out the someone address then there is another option that is discussed below.
Search Address By PTCL Number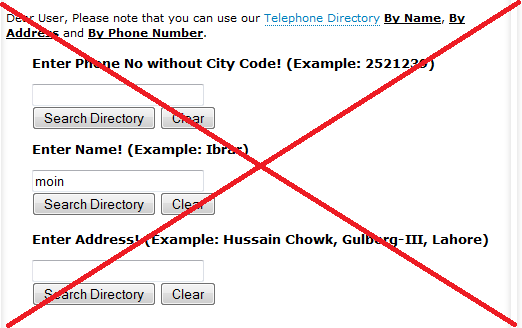 How to Find Address Through a PTCL Number:
Well let me tell you to all people of Pakistan that if it is really necessary to find out the address of a person and you just have the PTCL number of that person than the best and perfect way to find out is that go to your nearest PTCL One Shop or the PTCL exchange and show them that number of find out that from which exchange this number has been issued. After your come to know that the exact exchange of that number go their and find out the lineman and though meeting that lineman there are a chances that he tell you the address of that specific PTCL Number.
This is the only option in front of you if it is necessary then you have to struggle a little bit but if you are thinking of witting at your home and Search Address By PTCL Number though the directories then just forget it you would not be able to as it is banned from the Pakistan Telecommunication Company Limited PTCL officials.