Now you can Re-verify NADRA CNIC and family tree through sms to check if your CNIC is legal and or if there is an unknown identity is approved with your CNIC number. National Database and Registration Authority (NADRA) has launched a very adequate service for general public to stay safe from any illegal involving. Due to the raising of new techniques of crime and terrorism like bomb blasting or kidnaping by the terrorists master minds who are doing crime on the behalf of others by using their identity, the Pakistan NADRA has assembled a new technique for all the general public through which each one can kept safe him or herself from any involving in such cases. Yes of course! Now you can re-verify your CNIC number to check if all the members within your CNIC are really and actually your known persons of your family or there is even a single entity is there who you are not familiar with. So personally suggesting you that you must once re-verify your CNIC number by sending a message as per the procedure of Re-verification of ID card number…
Re-Verify NADRA CNIC And Family Tree Through SMS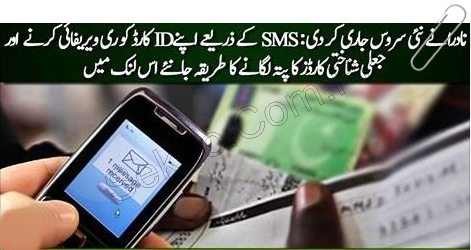 How to Re-Verify CNIC Via SMS
The procedure is just a simple steps
In your mobile messaging select type new message and
Enter your correct and complete CNIC i.e. ID card number with dashes or without dashes and
Send this message to 8008
Basic sms charges + tax will be deducted from your balance that is almost 3 rupees all
So when you have send your CNIC No# to 8008, after few seconds you will receive a reply by the NADRA
Your name and your family members name will be written in this message
Only those family members names will be presented with your CNIC Number that are registered with the same family number
At the end of the message you will have two options that are if all the family members are known then reply with 2 and or if anyone is unknown name is existing in your family list then reply with 1
That's all…!!!
 I personally suggest you that if any person is unknown and you don't know that name in your family then once verify from your family before concerning to NADRA. It is because if you reply with 1 NADRA officials took special steps against that person and your CNIC will be strictly verify and the omissions will be clarify properly. So this is all about Re-verify NADRA CNIC and family tree through sms. In case of any confusion you can ask us via comment section relating to this post.