Punjab University Laptop distribution 2015 ceremony date all the detail is available in our website. Punjab university has been announced the schedule for laptop distribution. Laptop distribution ceremony in the University of the Punjab Lahore will be held on December 2015. The final date will be confirmed by HEC Pakistan. The Prime Minister of Pakistan Nawaz sharif will be distributing free Laptop to the students. Only eligible candidates can get the Laptop. The main objective of the scheme is to provide free Laptop to 100 thousands brilliant students who are study at Government and Private institute who get high marks or board topper in intermediate, Bachelor, Master, and M Phil.
According to the PM Nawaz sharif laptop scheme 2015. Male and female students who registered himself in HEC approved institute are eligible for this scheme. According to the scheme the Laptop price is 40,000 and Total 100,000 Laptop distribute all over the country. All the distribution is purely on merit basis and no reference will be entertained for the scheme. The Government of Pakistan announced RS 4.0 budget for this scheme.The students who are receiver higher education commission Scholarship will not eligible for the scheme. The who received free laptop in the last year scheme will not eligible.The main purpose of the scheme is provide IT Education  facility in all over the Pakistan.
Punjab University Laptop Distribution 2015 Ceremony Date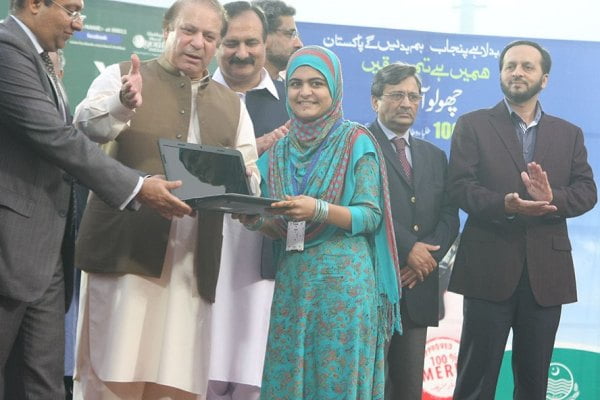 Laptop Distribution Date   December, 2015

 Laptop Specifications:
Processor: Mobile Processor Intel® Core™ i3- 4thGeneration processor (1.6 GHz) or higher (i.e. Core™ i5 or Core™ i7)
Chipset: Chipset/ Motherboard Intel Chipset HM86 or higher
RAM Memory: 4 GB of DDR-III or higher (expandable to 8 GB or higher)
Hard Drive: HD with 5400 RPM or Higher
DVD: Super Drive DVD+/-RW compatible with Microsoft Windows 7/8 and Linux
Graphic Card Specifications: Display Graphics Card Integrated graphics on motherboard
Speakers: Speakers should be Built-in with built in Microphone
Networking Card: Network Adapter Minimum on-Board 10/100 Ethernet (Microsoft Windows 7/8 and Linux Supportive)
Display: LCD/ LED/ Touch Display 14? to 15.4" Widescreen High Definition Display
Input / Output Interface: Integrated I/O Interfaces 2 USB 2.0 Port. 1 RJ45 Jack for Ethernet, VGA/ HDMI Port along with external HDMI/ VGA Adapter and other standard features
Wireless Card: Wireless LAN Wireless 802.11b/g/n compatible with Microsoft Windows 7/8 and Linux Supportive
Web Cam: Web Cam Built-in High Definition Web Cam with integrated microphone
Laptop Battery Specifications: Batteries & Power Supply Li-ion Re-chargeable 6 Cell Battery pack and Power Supply as per manufacturer standard
Mouse and Input Devices: Mouse & Key Board 84/ 85 keys pad and integrated Touch Pad
The above were the specifications of laptop's internal system. The specifications of software accessories & warranty are as under:
Software: Operating System Windows 8 starter or higher (pre-installed and personalized for this scheme)
Productivity Applications: Microsoft Office 2010
Accessories: 3 Standard accessories Power cable with two/ three pin socket and plug, Interface cable, Power adopter, charger and standard instructions
Customized Features: Customized Project Logo on laptop LID
The carrying bag will also be provided to the talented students, and its specifications will be as under:
Carrying Bag: Polyester fabric Soft backpack carrying bag; Government, image and Scheme name shall be embroidered on the front pocket as per the designed Logo
Following are the warranty / certifications specifications for the laptops provided under Prime Minister's National Program for Provision of Laptops to Talented Students.
Warranty (Certificate from the manufacturer): Minimum 1 year comprehensive warranty including battery
Certifications: RoHS and any other certificates
Tentative Specification for Laptop Computer Backpack (Targus brand)
Suitability: It should be to accommodate minimum 14"size laptop computer
Size 43 cm (h) x 33 cm (w) x 23 cm (d) approximately
Material Polyester fabric, nylon bonded thread, branded zippers and sliders
Compartments Compartment bag (Laptop, Text book, Power adapter, utility pocket) with padded sleeve, Utility pocket in the front and side pockets
Padding Padded handle, Padding on the back for comfort and air flow curved and padded contoured shoulder straps
Weight 0.80 kg approximately
Logo and image Government Logo, Image and Scheme name etc. shall be embroidered on the front pocket as per the design which will be given by the Higher Education Commission.