Mian Muhammad Nawaz Sharif Prime minister of Pakistan are introduced PM Fee Reimbursement Scheme 2014 so get Eligibility, Registration Form with all details that is available on this page. Through this Scheme the main Aim is encouraging the all students for higher education and those candidates who will select for this scheme they can also get Scholarship for different educational Post Graduate degree level like MA, MSC or Higher level PHD this scheme is available for male and female candidates who want get admission in post-graduation level in well-reputed universities. All those Students who are living and belong to under-privileged areas of the country they can apply for this PM Fee Reimbursement Scheme 2014 in further we are give you online Application form and all Eligibility criteria with all these things you can get all areas name who are included for this PM Fee Reimbursement scheme, Total Scholarship number of seats.
PM Fee Reimbursement Scheme 2014 Eligibility, Registration Form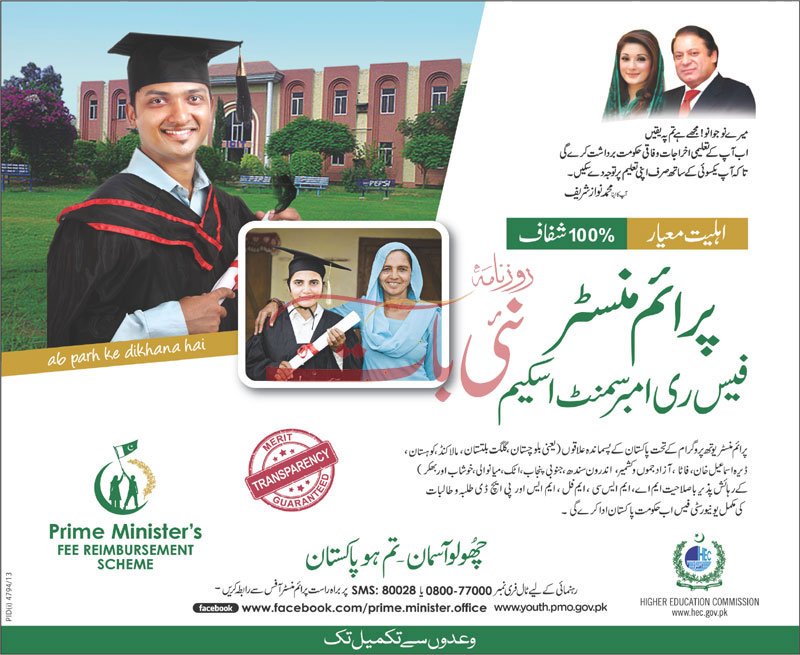 Total Number of Scholarship:
For pm fee reimbursement scheme 2014 total 30,000 students will receive scholarship but remember only those students can get this scholarship who are living those areas that are announced by official in further details we are giving you list of Areas.
Fee amount for Students:
Prime Minister of Pakistan and scheme official are finalize total 40,000 rupees annual in tuition few form so those students who will get this scholarship they can get this amount for post-graduate level.
Eligibility Criteria:
Male and female are eligible for pm fee reimbursement scheme 2014. You camn get registration in a Mater and Phd level educational program in an HEC approved Public sector educational Institute if you can fulfill this criteria then you are able to apply for pm fee reimbursement scheme 2014 and  registration form online is available on this page in further details.
Scheme Selected Areas Name:
Those students who have Sindh, Southern Punjab, Multan, Bahawalpur, DG khan, Baluchistan, Malakand, Kohistan, and DI Khan, GB, Fata areas Domiciled they are eligible for this scheme. Remember one thing all your document and specially domiciled will verity by DCO office.
Total Scheme Budget 2013 to 2014:
pm fee reimbursement scheme 2014 total budget are allocated by PM office an annual budget RS 1.2 Billion are finalized for 2013- 2014 year.
HEC Collaboration:
Students this is information for you and you must have knowledge about it Higher Education Commission HEC would be the executing agency for this scheme and the Ministry of Education and Trainings will Collaborate with HEC and make sure any trouble students will not face during all procedure. pm fee reimbursement scheme highly observed by PM of Pakistan.
now we will make hope you can understand pm fee reimbursement scheme 2014 eligibility and remember registration form Still not issued after few days we are updated when registration form will issue by official.